Search the homes for sale in Holiday City West, Berkeley NJ. When it's time to move, let us help you. Call us, Bunny and Art Reiman – Realtors. Whether you're a buyer or a seller, or both, we can help you just like we've helped hundreds of other families find their new home.
Holiday City West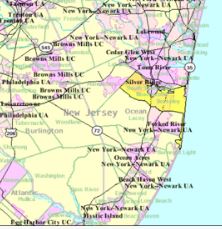 This is one of the nine active adult communities which is located in the area commonly known as Holiday City.
Holiday City Berkeley, Holiday City Carefree, Holiday City West, Holiday City South, Holiday City Heights, Silveridge Park West, Silveridge Park East, Silveridge North, Silveridge Westerly
These homes are located in Berkeley Township, however many think they are all in Toms River. It has a great location because it's a few miles west of the Garden State Parkway,
The homes for sale in Holiday City West have low taxes and monthly fees. One resident must be at least 55, all others at least 19. The monthly fees include snow removal, lawn cutting and use of the clubhouse and facilities. All in all, these facts make Holiday City an attractive destination for seniors.
The Homes
Most homes have two bedrooms with either one or two baths and an attached one or two car garage. The homes are single level, thus people can "live flat". Mostly, the homes are heated by hot water baseboard heat. Also they usually have central air conditioning. Holiday City West was built around the early 1980s, however, a few more homes were built in the 1990s. None of these homes have a basement.
The Clubhouse
At the active adult HC West clubhouse, which is the social hub of the community, you'll find many clubs and activities along with trips and socials. Get as involved as you want. Or don't get involved. It's up to you.  Also there is an outdoor community pool where you can relax on warm summer days. You can also enjoy local activities such as fishing, boating, golf, shopping, dining and much much more.
Transportation
Ocean County provides bus transportation within Ocean County through it's Ocean Ride program. There are the 12 bus routes that connect key residential areas with popular destinations such as shopping, employment, social services and connections to other means of transportation. A New Jersey Transit bus terminal is minutes away in Toms River. This provides a connection to Route 9 and New York buses in Lakewood, Additionally, buses to Atlantic City and points in between are available.
The Garden State Parkway at exit 81 provides easy access to other major roadways from the active adult HC West community.
Medical Service
Community Medical is the nearest hospital. It's only minutes away on Route 37. You'll find numerous medical practices in the immediate area.
Ocean County provides non-emergency medical transport with the Reserve A Ride program. Advance reservations are required however a small fee is charged. This program will take seniors to and from any medical facility in Ocean County.
Ready to Move?
When you're ready to either buy or sell a home in Holiday City West, contact us. Call Bunny and Art Reiman – the Active Adult Community Specialists.
Recently Sold Homes in Holiday City West
| MLS # | Status | Address | Price | Sold Date | Complex/Subdivision | Taxes | Assn Fee | Bedrooms | Fireplace | # Car Garage | Model | |
| --- | --- | --- | --- | --- | --- | --- | --- | --- | --- | --- | --- | --- |
1
22121098
C
14 Pebble Beach Ct
$230,000
09/21/2021
Hc West
2,771
120
2
1
2
22123291
C
17 Vail St
$335,000
09/15/2021
Hc West
2,697
39
2
Y
1
Lakeview
3
22122512
C
372 Costa Mesa Dr
$220,000
09/07/2021
Hc West
2,820
120
2
1
4
22122277
C
17 Purnell St
$280,000
09/08/2021
Hc West
2,782
120
2
N
0
Bal Harbor
5
22120340
C
34 Exitir St
$290,000
09/08/2021
Hc West
2,251
120
2
N
1
Capri
6
22124316
C
71 Troumaka St
$235,000
09/10/2021
Hc West
2,588
120
2
1
7
22124286
C
265 Costa Mesa Dr
$335,000
09/13/2021
Hc West
2,835
120
2
1
Shoreview
During 2020, 105 homes were sold with a median sale price of $215000.
More Info
Eleven homes are offered for sale on 9/20/21. Sellers are offering these homes for prices between $149000 and $295000. Also, the median asking price is $269000 (about 1044000 Samoan tala). Mortgage rates are around 3.0%.
Please enter BUY SELL Holiday City WEST to proceed.
Prepare to move to active adult hc west. Educate yourself about the active adult community. Learn all you need about the homes for sale in Holiday City west in Berkeley NJ, in Ocean COunty. Seek affordable homes to live in for senior citizens. Search the active adult hc west homes for sale in Berkeley NJ. Decide if this is the best retirement communities for active adults. Investigate active retirement communities near me. Hunt out the over 55 homes in Berkeley NJ. holiday city west or HC west.
Enjoy life and an active life style in this 55 plus community, for people who are 55 and older. Hunt to find the active retirement communities near me. Search for Ocean County 55places and active adult living in 55 plus. This adult life style community is a great place to live. Make new friends here. It is a great time to look for homes for sale in Holiday City West.
Click on the communities below to see the available homes