Active Adult Community New Construction
Search for active adult community new construction in Ocean County and Monmouth County, NJ,
In the first place, there's nothing like a new home. That's because everything is new, neat and clean. Then begins the fun of decorating for the first time. And, you won't need to undo someone else's bad decorating ideas.
This site gives you the information of where to find Active Adult Over 55 Community New Construction Homes in Monmouth and, Ocean counties in NJ.
Buying Active Adult New Construction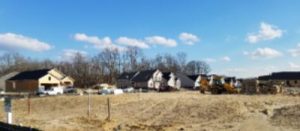 When purchasing a home, especially new construction, it's in your best interest to work with an experienced Realtor who knows the marketplace. In fact, Bunny and Art have sold hundreds of adult community homes – many of which were new construction. In addition, they have ideas that can save you hundreds, if not thousands, of dollars. Additionally, their advice costs you nothing! That's because the developer pays their fee.
For example, your real estate taxes for new construction are based upon the purchase price. As a result, some options are best added to the home after the purchase has closed. In addition, you may pay less for these options through a local contractor. Consequently, your taxes may be lower, resulting in savings year after year.
However, other options will cost much more to install than if they were installed while the home was under construction.
Remember – the salesperson you meet at the new construction sales office works for the developer – as a result they don't work for you!  As a result, you should have someone to advise you!
When you want information on a community contact the Reimans – Central New Jersey's Active Adult Community Specialists. Because by applying their experience, they are able to help guide you through the process.
Mortgage rates have risen but remain reasonable. As of 9/1/22 the national average 30 year rate is about 5.92%.
Click on the communities below to see the available homes