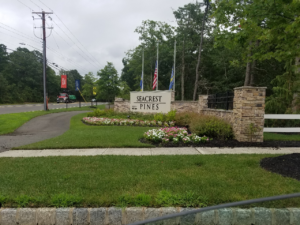 See the new construction homes for sale in Seacrest Pines, an active adult community in Barnegat, Ocean County NJ. When you're ready to look for your next home, call Bunny and Art Reiman – the Active Adult Community Specialists.
Seacrest Pines, Barnegat
Seacrest Pines in Barnegat, is an active adult community with new construction. Because of it's location near the Garden State Parkway, exit 67, it's only a few miles from the ocean. Nearby, Enjoy local activities such as fishing, boating, golf, shopping, dining and much much more. There's a homeowners association, therefore a monthly association fee will be assessed. The HOA is responsible for lawn maintenance and snow removal, as a result, you aren't.
Buying New Construction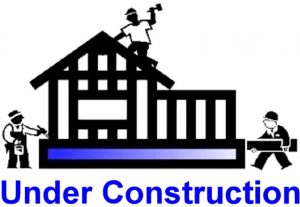 When visiting a new construction sales office, remember this very important point. The salesperson represents the developer, not you!
It is in your best interest to visit the community with a Realtor who is experienced in new construction. It doesn't cost you anything to have someone with you to advise you. We have ideas that can save you thousands in new construction.
The Reimans have sold hundreds of adult community homes and are familiar with all communities in the area.
So give us a call and make an appointment to see the homes at Seacrest Pines
The Homes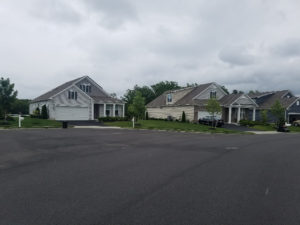 There's nothing like a brand new home, is there? Construction started in 2017, and when complete, there will be 347 homes in Seacrest Pines. However, it won't be long until all of the new construction is complete. Six floor plans are offered, and one or two story homes are available. The homes have either 2 or 3 bedrooms. In addition, all homes have a two car garage. Prices start in the upper $200,000s. The homes generally range between 1664 to almost 2399 square foot.
The Clubhouse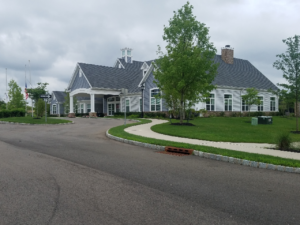 The clubhouse is the heart of the community. When the weather is warm, swim in the outdoor pool. And when you're inside, play billiards or cards. Additionally, there's a fitness center so you can get a good workout. Also, there is a ballroom for socials and other gatherings, tennis courts and more. Enjoy local activities such as fishing, boating, golf, shopping, dining and much much more.
While Seacrest Pines doesn't have a golf course, there are many courses available in Ocean County.
Transportation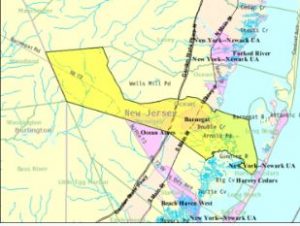 The Ocean County transit system, Ocean Ride, operates bus transportation throughout Ocean County. 12 local bus routes to take riders to shopping, other adult communities and more. There is no charge for this service.
Medical Services
Nearby on Route 72 in Stafford, is Hackensack Meridian Health Southern Ocean Medical Center. which is the nearest hospital to Four Seasons Mirage. You'll find that numerous medical practices are in the immediate area. And, Ocean County's Reserve-A-Ride Program offers non-emergency medical transportation service to seniors (age 60 and over). Advance reservations are necessary, and a small fee is charged.
Ocean County also offers their Reserve A Ride program to seniors. This service will provide non emergency medical transport to and from any medical facility in Ocean County. Reservation are required in advance, and a small fee is charged for this service.
When you're ready to either buy or sell a home, contact us. We specialize in new construction Ocean County active adult communities. Call Bunny and Art Reiman – the Active Adult Community Specialists.
Are you Looking For
New Construction?
Gated Community?
Golf Community?
Escapes at Ocean Breeze
Venue at Lighthouse Station, Barnegat NJ
Recently Sold Homes
During 2021, 21 adult community homes were reported as sold to the MLS in Seacrest Pines. In addition, the average sale price was $466542.
Not all new construction sales are reported.
| MLS # | Status | Address | Price | Complex/Subdivision | Sold Date | Days On Market | Bedrooms | Taxes | Assn Fee | |
| --- | --- | --- | --- | --- | --- | --- | --- | --- | --- | --- |
1
22129070
C
51 Black Bear Dr
$469,865
Seacrest Pines
12/29/2021
34
2
176
2
22109947
C
15 Black Bear Dr
$478,865
Seacrest Pines
09/08/2021
51
3
176
3
22116520
C
20 Cougar Ln
$480,865
Seacrest Pines
09/23/2021
6
3
176
4
22127234
C
111 Woodchuck Dr
$487,500
Seacrest Pines
10/13/2021
28
3
8,496
176
5
22112685
C
29 Cougar Ln
$487,365
Seacrest Pines
10/07/2021
39
3
176
6
22106856
C
16 Cougar Ln
$413,360
Seacrest Pines
10/19/2021
27
3
176
7
22120907
C
25 Cougar Ln
$450,000
Seacrest Pines
10/29/2021
116
3
176
8
22122720
C
43 Cougar Ln
$466,275
Seacrest Pines
11/17/2021
103
2
176
9
22125753
C
40 Raccoon Ln
$469,275
Seacrest Pines
12/08/2021
60
2
176
10
22123516
C
41 Cougar Ln
$492,220
Seacrest Pines
11/30/2021
4
3
176
11
22121890
C
42 Cougar Ln
$492,550
Seacrest P!nes
12/10/2021
3
3
176
12
22127190
C
49 Cougar Ln
$520,715
Seacrest P!nes
12/10/2021
14
3
176
13
22127252
C
46 Black Bear Dr
$526,270
Seacrest Pines
12/09/2021
13
3
176
.
In order to continue you'll need to enter NEW CONSTRUCTION ADULT COMMUNITY SEACREST PINES.
Call us regarding new construction active adult Ocean County or homes for sale . mortgage rates, on 1/27/22 are about 3.25% . Currently, there are no resale homes available, but from time to time some do come on the market. Additionally, new construction is still available. Homes typically sell from the upper $400,000s to more than $500000. (about 1966000 Philippine peso).
Click on the communities below to see the available homes