Search the homes for sale in Lions Head South. Whether you're a buyer or a seller, call us. We've sold hundreds of adult community homes and are familiar with all communities in the area
When you're ready to either buy or sell a home in Lions Head South, contact us. Call Bunny and Art Reiman – the Active Adult Community Specialists.
Lions Head South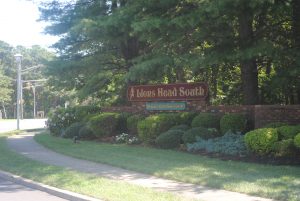 Lions Head South is an Active Adult 55 + Over 55 community in Brick, NJ. Because it's located in northern Brick, close to the Garden State Parkway, it's in a great spot. It's close to shopping and dining, fishing and boating in addition to the beaches at the Jersey Shore. And Lions Head South is also close to marinas.
There's a homeowners association, therefore a monthly association fee. The association fee includes lawn care, snow removal, trash and recycling pickup. Also, there's a one time fee for new residents to be paid to the association at time of closing. Lions Head South publishes a monthly magazine, "The Lions Pride" which provides information for the residents.
A parking lot is available for residents to park an RV or a small boat. However, the spaces are limited.
The Homes
There are 615 single family homes in Lions Head South. All of the homes have 2 bedrooms with 2 baths and a 1 car garage. And each of these detached homes is a single level home. Generally, the homes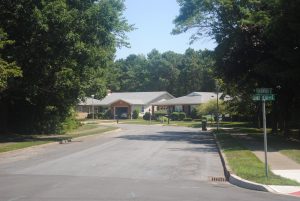 range in size between 1223 and 1636 sq ft. and were built between 1983 and 1987. Many of the homes are still heated by electric, however recently gas lines were made available. Besides, some homes have already been converted from electric to gas.
Homes in Lions Head South typically sell between the lower $200,000s to more than $300,000.
The Clubhouse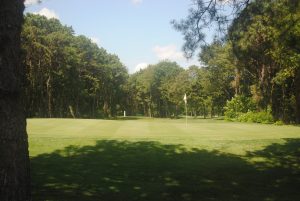 The clubhouse at Lions Head South is the social hub of the community. This is the place to go to socialize with your neighbors and to make new friends. The amenities at the clubhouse include tennis, shuffleboard and bocce courts. There is also a heated outdoor pool.
Another desirable feature is the nine hole executive golf course, which is a private course. This golf course is situated on 29 acres of pinelands and wetlands, and is owned and operated by the home owners association. Unlimited play is available for less than $400 per year. Inside the clubhouse you'll find a billiard room, a card room and the Lion's Den auditorium. You can relax in the well stocked library and read a book. Or you can keep yourself in shape in the recently built fitness center,
Recreation, Dining and Shopping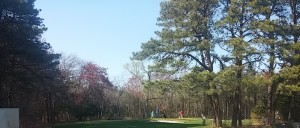 Boating enthusiasts will appreciate the fact the there are many marinas in the areas for you to dock your boat at. While Lions Head South has a golf course, you may at times prefer a course which is a bit more challenging. Ocean County is home to a large number of public golf courses. Free concerts are given at Windward Beach, which feature top local bands. And a great place to take your grandchildren is Jenkinsons Pier in Point Pleasant.
Shopping is plentiful on Route 70 and Hooper Ave, while the Ocean County Mall is nearby in Toms River. You'll find there are tons of fine restaurants in the area, including some very nice seafood restaurants in Point Pleasant.
Transportation
Lions Head South is conveniently located in Brick, about two miles from the Garden State Parkway. Other major transportation roads nearby are Route 0, Hooper Ave and Route 37. If you either work or play in New York, the train station in Point Pleasant provides easy access via the New Jersey Transit Coast Line.
The Department of Transportation Services county transit system, Ocean Ride, provides bus transportation throughout Ocean County. This service provides 12 local bus routes to shopping, other adult communities, transportation hubs and more. This service, which is offered to seniors, aged 60 or over, is not a billable service. This is great if you either don't drive, or just don't feel like driving.
Medical Care
Ocean Medical Center is located in Brick on Jack Martin Blvd. This hospital is part of Hackensack Meridian Health.
Another Ocean County provide transportation service is Reserve-A-Ride, which provides door-to-door, non-emergency medical transportation service. This is available to seniors (age 60 and over) and a small fee will be charged. In addition, you'll need to make reservations in advance.
Looking for an adult community home?
Call when you're ready to see the active adult community homes for sale in Lions Head South. Call Realtors Bunny & Art Reiman – the Adult Community Specialists
Looking For Golf Communities New Construction Gated Communities
Greenbriar I Brick
Greenbriar II – Brick NJ
Recently Sold Homes in Lions Head
During 2021, 29 adult community homes were sold in Lions Head South. In addition, the average sale price was $294284.
| MLS # | Status | Address | Price | Complex/Subdivision | Sold Date | Days On Market | Bedrooms | Taxes | Assn Fee | |
| --- | --- | --- | --- | --- | --- | --- | --- | --- | --- | --- |
1
22130289
C
23 Meadowbrook Rd
$320,000
Lions Head So
01/03/2022
15
2
3,532
125
2
22136889
P
233 Lions Head Blvd
$289,000
Lions Head So
22
2
3,197
125
3
22135022
P
27 Meadowbrook Rd
$325,000
Lions Head So
12
2
3,553
125
4
22136632
P
187 Lions Head Blvd S
$325,000
Lions Head So
36
2
3,410
125
5
22128131
P
50 Lauren Ln N
$310,000
Lions Head So
23
2
3,483
125
6
22130647
C
74 Yorkwood Dr
$324,000
Lions Head So
12/02/2021
16
2
3,197
125
7
22135622
C
156 Lions Head Blvd S
$275,000
Lions Head So
12/10/2021
12
2
3,476
125
Homes For Sale Lions Head South
If prompted, type in" BUY SELL LIONS HEAD SOUTH BRICK HOMES ".
On 1/27/22, there are 3 homes for sale and the asking prices are between $259000 and $318900. Additionally, the median asking price is $299500. Typically homes here sell in the mid $200000s (about 302000 Norwegian krone) to $300000 and more..
mortgage rates are rising, the going rate is about 3.25%.
As an option, look at the homes for sale in Raintree Freehold.
Search for the homes for sale in Lions Head South. You'll quickly learn that this is one of the best retirement communities for active adults in Ocean County. As a matter of fact, you get a lot for your money in this community. It's near shopping, dining, transportation and the Jersey Shore! Check to see if this is one of the active adult communities near me. You can learn about active adult living inhere. This 55places homes for sale in Lions Head South offers luxury homes at affordable prices. the community is well kept.
Go plant some tomatoes, just keep them within three feet of your building.
When you initiate your hunt for your new home in a 55 plus community, you should look here. These homes have nice floor plans. And these floor plans work well for senior citizens. That is because the master bedroom is on the first floor. And that is where it should be. The homes are all ranch style homes. This forces all rooms to be on the first floor since Many of these beautiful homes back to the woods. One car garages are standard.
To see the homes for sale in lions head south, call Bunny and Art Reiman – Realtors.
Click on the communities below to see the available homes