Holiday City Carefree
Browse the homes for sale in Holiday City Carefree, in Berkeley NJ. If you're interested in buying or selling a home here, call Bunny and Art Reiman – the Active Adult Community Specialists. We can help.
About Holiday City Carefree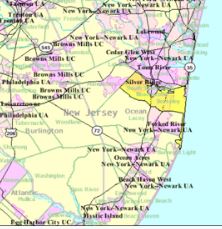 The area many people associate with "Holiday City" actually consists of nine different communities
Holiday City Berkeley Holiday City Carefree Holiday City West Holiday City South Holiday City Heights Silveridge Park West Silveridge Park East Silveridge North Silveridge Westerly
Holiday City Carefree is one of the nine communities. While located in Berkeley Township, it's west of the Garden State Parkway exit 82. Actually, Holiday City, including all nine communities, consists of about 16,000 homes. When you combine the low monthly fees and low taxes you'll see the appeal of these homes. Conveniently located, shopping, dining health care and of course – The Jersey Shore and transportation are all nearby. Furthermore, the monthly association fee provides lawn maintenance, snow removal, trash removal and use of the common areas.
The Homes in Holiday City Carefree
Beginning around 1980, construction began on the single family, detached homes for sale in Holiday City Carefree. Almost all homes have an attached one car garage. Two bedrooms are standard, along with either one or two baths. Most homes, but not all, are heated with hot water baseboard heat. Additionally, most homes have central air conditioning. Home sizes generally range from about 1100 square feet to around 1350 square feet and they typically are built with a crawl space foundation. Typical sale prices for these homes begin close to $200,000, however, they can also sell for more than $300,000 and anywhere in between.
In addition, your pets are welcome at Holiday City Carefree.
When you're ready to see the homes for sale call Realtors Bunny and Art Reiman at 732-598-7700.
The Clubhouse
At the hub of Holiday City Carefree's social life you'll find the clubhouse. Inside, you'll find billiards and meeting rooms. Also, and this is rare, a woodworking shop. And when the weather warms up, swim in the outdoor pool. Get as involved as you want to be with many clubs, trips and social events. Meet the other active adult residents in HC Carefree. Nearby you can enjoy local activities such as fishing, boating, golf, shopping, dining and much much more.
While Holiday City Carefree doesn't have a golf course, there are many courses available in Ocean County.
Medical Services
Nearby is Community Medical Center on Route 37, Toms River. Numerous doctors and medical practices are also nearby. And, Ocean County provides non-emergency medical transport through it's Reserve-A-Ride program. However, this program charges a small fee, and it provides door to door transport to any medical facility in Ocean County. Additionally, you'll need to make advance reservations for this service.
Transportation
Ocean County also provides to seniors, aged 60 and older, the Ocean Ride Program. This service transports seniors to shopping destinations, other adult communities, social services and other transportation hubs. Also, there is no charge for this service, which operates on a set weekly schedule.
When you're ready to either buy or sell a home in Holiday City Carefree, contact us. Call Bunny and Art Reiman – the Active Adult Community Specialists
Recently Sold Homes in Holiday City Carefree
During 2021, 97 adult community homes were sold in Holiday City Carefree. In addition, the average sale price was $240236.
Additionally, the average sale price during the past 6 months was $288650.
| MLS # | Status | Address | Price | Sold Date | Taxes | Assn Fee | Days On Market | Complex/Subdivision | Garage | Bedrooms | Basement | |
| --- | --- | --- | --- | --- | --- | --- | --- | --- | --- | --- | --- | --- |
1
22217031
C
12 Eldorado St
$219,500
09/12/2022
2,637
122
10
Hc Carefree
Y
2
N
2
22218142
C
11 St George St
$235,000
09/16/2022
2,554
150
21
Hc Carefree
Y
2
N
3
22205411
C
225 Fort De France Ave
$250,000
09/16/2022
2,525
150
148
Hc Carefree
Y
2
N
4
22219225
C
61 Liberta Dr
$300,000
09/01/2022
2,153
34
15
Hc Carefree
Y
2
N
5
22222352
C
26 Tivoli St
$310,000
09/09/2022
2,659
34
25
Hc Carefree
Y
2
N
6
22222652
C
37 Hyannis St
$262,000
09/09/2022
100
15
Hc Carefree
Y
2
N
7
22220634
P
7 Puerto Vallarta St
$259,999
2,978
123
49
Hc Carefree
Y
2
N
8
22223075
P
26 Boca Raton St
$369,900
2,869
165
55
Hc Carefree
Y
2
N
9
22227548
P
39 Hyannis St
$299,999
2,753
120
13
Hc Carefree
Y
2
N
More about Holiday City Carefree
As of today 10/1/22) there are 15 homes are for sale. Although rising, the national average mortgage rates are reasonable at about 6.38%. In addition, asking prices for the 15 homes for sale are between $235000 and $399900. Furthermore, the median price is $339900.
FInd the active adult hc carefree homes for sale in Berkeley NJ. Search for Ocean County 55places and active adult living in 55 plus. Learn if this is the best retirement communities for active adults. Find active retirement communities near me. Seek out the over 55 homes in Berkeley NJ. Learn about the active adult community holiday city carefree or HC Carefree. FInd affordable homes to live in for senior citizens. Live an active life style in this 55 plus community, for people who are 55 and older. Search to find the active retirement communities near me. Learn about the homes for sale in Holiday City Carefree Berkeley NJ, in Ocean County. Call us for the homes for sale in Holiday City Carefree.
Click on the communities below to see the available homes