Greenbriar II
Search the homes for sale in Greenbriar II. If you're either a buyer or a seller, call us – Bunny and Art Reiman, the Adult Community Specialists. We've sold hundreds of adult community homes and we can help you too.
Call 732-616-6226 when you're ready to see the active adult community homes for sale in Greenbriar II.
About Greenbriar II

Brick, NJ Greenbriar II is a 55+, Active Adult Over 55 Community in Brick, NJ which is conveniently located close to the Garden State Parkway, the Jersey Shore and all major shopping.
Since Greenbriar II has a homeowners association, a monthly association fee will be assessed which provides lawn maintenance and snow removal. As a result, you'll have more time for yourself because you won't need to shovel snow or cut your grass. Additionally, residents are also allowed use of the clubhouse and facilities. In addition, your pets are welcome in this community.
The Homes in Greenbriar II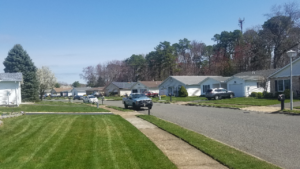 Between 1979 and 1987, about 600 homes in Greenbriar II were built in this well kept community. When compared to the homes in Greenbriar I, which is located across the street, the homes are newer than in Greenbriar I and they are typically a little larger. These detached, single family ranch style homes have 2 bedrooms, with either 1.5 or 2 baths. All homes have a garage, either 1 or 2 cars, and a few have a basement. In addition, these homes are heated by natural gas.
Recently homes in Greenbriar II sell between the mid $200,000s to over $300,000.
The Greenbriar II Clubhouse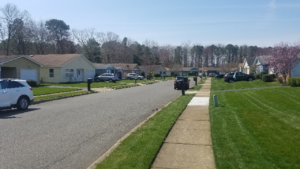 Since the community clubhouse is the social hub, this is where you'll go to socialize with your neighbors and to make new friends. Furthermore, you can get as involved or un-involved with the many clubs and activities as you want to be. The multi-purpose room and ballroom are perfect for community events, get togethers and activities. Also, when the weather gets warm, residents can take a swim in the outdoor pool or relax with friends on the patio. Additionally, you can enjoy a game of pool in the billiards room. However, if bocci or shuffleboard are what you prefer, you'll always find someone to join you.
Transportation
Ocean County's transit system, Ocean Ride, provides bus transportation throughout Ocean County. The 12 bus routes connect key residential areas with popular destinations such as shopping, and employment, in addition to social services. This is a free program, but many of the riders tip the driver.
Greenbriar II offers easy access to the Garden State Parkway (Exit 91) and many other major roadways. As a result, you won't have the problem of "You Can't Get There From Here". Also, for those who work or play in New York, New Jersey Transit has a train station minutes away in Point Pleasant.
Shopping, Dining and Recreation
In the area you can enjoy local activities such as fishing, boating, golf, shopping, dining and much much more. If you need docking for your boat, nearby, on the Metedeconk River are many marinas while the beaches at the Jersey Shore are only a few miles away from Greenbriar 2. Music lovers can listen to top local bands at the free concerts at Windward Park. Stroll the boardwalk at Point Pleasant or Seaside Heights and Atlantic City is about one hours drive away. There's plenty of things to do to keep yourself busy.
Medical Services
Ocean Ride's Reserve-A-Ride Program provides door-to-door, non-emergency medical transportation service. This county supplied service will take seniors (age 60 and over) from Greenbriar II to medical facilities in Ocean County. However, you'll need to pay a nominal fee. Also, you'll need advance reservations. Be sure to be nice to the driver, because you want the driver to bring you back home!
Nearby in Brick, on Jack Martin Blvd, you'll find Ocean Medical Center. Furthermore, near to the hospital are a number of different medical practices.
Ready to buy your next home?
When you're ready to either buy or sell a home in an active adult community, contact us. Call Bunny and Art Reiman – the Active Adult Community Specialists. Let us guide you through the process of buying your new home.
Greenbriar I Brick
Recently Sold Homes
During 2022, 37 adult community homes were sold in Greenbriar II. In addition, the average sale price was $336,671. During the past 6 months, the median sale price was $329500.
| MLS # | Status | Address | Price | Municipality | Complex/Subdivision | Sold Date | DOM | Taxes | Assn Fee | Beds | Baths | # Car | Model | Asmnt – Total | Basement | |
| --- | --- | --- | --- | --- | --- | --- | --- | --- | --- | --- | --- | --- | --- | --- | --- | --- |
| | | | | | | | | | | | | | | | | | |
| --- | --- | --- | --- | --- | --- | --- | --- | --- | --- | --- | --- | --- | --- | --- | --- | --- | --- |
| 1 | 22316522 | C | 95 Mansfield Dr | $362,000 | Brick | Greenbriar Ii | 09/13/2023 | 25 | 4,712 | 160 | 2 | 2 | 1 | Mansfield | 192,100 | N | |
| 2 | 22316233 | C | 161 Everest Dr S | $385,500 | Brick | Greenbriar Ii | 09/05/2023 | 16 | 4,563 | 160 | 2 | 2 | 1 | Everest | 186,000 | N | |
More about Greenbriar II homes for sale
In order to proceed, please enter BUY SELL HOMES GREENBRIAR 2 .
Although rising, Interest rates are still reasonable, and the actual rate averages around 7.776% as of 8/3/23. In fact, you'll find that there is 1 home for sale in Greenbriar I, asking $389000I. Typical sale prices are in the upper $200000s to around $400000.
Moreover, you can search to find the greenbriar 2 brick nj for sale and over 55 homes in adult communities. Besides, you can find your new home in 55places or 55 and older communities. Learn about the active adult communities near me. Find out which is an best retirement communities for active adults who want active adult living. Seek luxury homes in 55 plus adult communities near me. Which adult living communities best fit my active adult living life style? Greenbriar 2 homes for sale are for active adults in Ocean County NJ. Indeed, this is a very nice affordable active retirement communities in New Jersey. Find a Realtor near me, because
this is one of the nicest active adult communities in Brick.
In view of the fact that some homes are very near the high school. Not to mention that these homes will hear the noise from the football games and the marching bands.
Click on the communities below to see the available homes