If you're either a buyer or a seller in Leisure Knoll Manchester, call us – Realtors Bunny and Art Reiman. We've sold hundreds of active adult community homes and we can help you too.
Leisure Knoll – Manchester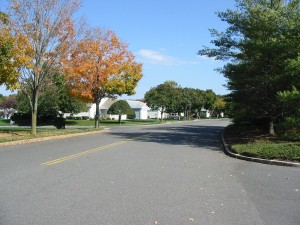 Leisure Knoll is an Active Adult Community in Manchester, Ocean County, with an area of 573 acres. Built in the late 1970's, Leisure Knoll is a gated community and there is a homeowners association (HOA. Therefore a monthly association fee will be assessed. Additionally, there is a one-time fee to be paid to the association by the buyer at closing, which is normal. The association's phone # is 732-657-6661.
The association is responsible for lawn care, however, individuals owners can opt out of the lawn care. By doing this they would reduce their HOA fee. In addition, the association takes care of snow removal, trash removal and common area maintenance. You'll be glad to know this is a pet friendly community.
Leisure Knoll is actually it's own Census Designated Place
The Homes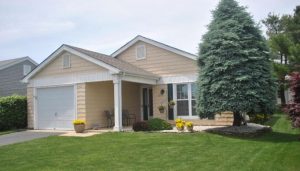 There are 1,626 homes in Leisure Knoll with 2 bedrooms and either 1 or 2 baths, and the population is estimated to be around 2,400 people. Most homes have a 1 car garage. However, a very few homes have a 2 car garage. All homes are single level homes, as a result you can "Live Flat". The homes generally range in size from 800 sq ft to 1,728 sq ft. None of these homes have a basement.
Most of the homes have electric heat, (see article below) but some of the homes in the newer section have gas heat. Gas lines are in the streets, as a result, you can convert to gas heat if you wish.
Typically, the homes for sale in Leisure Knoll sell between $175,000 to the mid $300,000s.
The Amenities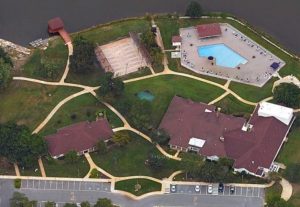 Leisure Knoll has a Clubhouse for resident's use, with an Auditorium and Theater for dancing, parties and shows, a boat house and a Driving Range. The clubhouse is the social center for Leisure Knoll, and this is where you'll go to socialize with your new neighbors and to meet new friends. Also you'll find Bocci, shuffleboard, Tennis Courts and a Picnic Area. When there's warm weather, relax in the outdoor pool. There is a lake in the community, and people sometimes fish in the lake.
While a driving range is provided, a golf course isn't provided. However, there are a number of public golf courses nearby.
For the residents who own a recreational vehicle and / or a boat, Leisure Knoll has a parking lot where you can park these vehicles. However, there is a small monthly fee to use this lot.
Recreation, Dining and Shopping
You can enjoy local activities such as fishing, boating, shopping, dining and much much more. And of course, the beaches at the Jersey Shore are nearby.
A local shopping center with a supermarket, home improvement store and more is less than 1 mile away. More shopping and dining is available east on Route 70 and on Route 37 in Toms River. There's no shortage of dining options in the area. If you like seafood, we recommend Gregory's Fish Market on Route 37. In addition, three major malls are with an hours drive.
Transportation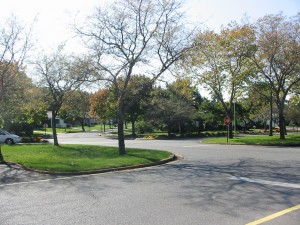 Leisure Knoll is conveniently located because it's on Route 70 about 6 miles west of the Garden State Parkway. The nearest New Jersey Transit train station is located in Point Pleasant. In addition, New Jersey Transit operates a bus depot nearby in Toms River.
The Department of Transportation Services county transit system, Ocean Ride, provides bus transportation throughout Ocean County. There are two major services. the Reserve-A-Ride Program and local bus routes to shopping, other adult communities, social services and other means of transportation.
Medical Services
The nearest hospitals are Monmouth Medical Center in Lakewood and Community Hospital in Toms River. Ocean County's Reserve-A-Ride provides door-to-door, non-emergency medical transportation service to seniors (age 60 and over) and person with disabilities to medical facilities in Ocean County. Advance reservations are necessary.
Are you ready to buy or sell a home?
When you're ready to either buy or sell a home in an active adult community, contact us. Call Bunny and Art Reiman – the Active Adult Community Specialists. We've helped hundreds of clients find their next home, and we can help you too.
Call 732-616-6226 for an appointment to see the active adult community homes in Leisure Knolls, Manchester NJ
The Real Estate Market
In 2020, 105 homes were sold in Leisure Knoll, with a median sale price of $210000. Additionally, the average sale price in the last 6 months was $268977.
Recently Sold Homes
| MLS # | Status | Address | Price | Complex/Subdivision | Sold Date | Days On Market | Taxes | Assn Fee | HOA | Apx Year Built | Minimum Age | Fireplace | |
| --- | --- | --- | --- | --- | --- | --- | --- | --- | --- | --- | --- | --- | --- |
1
22133013
C
175 Buckingham Dr N
$210,000
Leisure Knoll
11/19/2021
11
3,437
164
Y
1986
2
22129005
C
49 Leighton Ln
$370,000
Leisure Knoll
11/16/2021
9
4,853
207
Y
1977
55
N
3
22127302
C
6 Flintshire Ter
$364,500
Leisure Knoll
11/04/2021
15
4,144
210
Y
1978
55
N
4
22134415
P
210 Bridport Pl
$294,000
Leisure Rdg
4
4,224
250
Y
1989
55
5
22133001
P
6 Red Hill Rd
$299,900
Leisure Knoll
14
3,587
203
Y
1978
N
6
22118053
P
13 Newbury Row
$240,000
Leisure Knoll
128
3,709
210
Y
1979
7
22132369
P
7 Cromwell Ct
$379,900
Leisure Knoll
12
4,537
207
Y
1999
55
N
8
22135739
P
21 Cromwell Ct
$339,000
Leisure Knoll
16
4,623
207
Y
1998
55
N
9
22130227
P
12 Red Hill Rd
$292,500
Leisure Knoll
22
3,247
210
Y
1978
55
Y
10
22124710
P
40 Durham Ave
$235,000
Leisure Knoll
24
3,547
210
Y
1987
55
11
22135979
P
56 Sandhurst St
$210,000
Leisure Knoll
7
3,076
207
Y
1979
55
12
22135985
P
49 Red Hill Rd
$270,000
Leisure Knoll
6
3,000
164
Y
1980
55
N
13
22130651
P
40 Red Hill Rd
$279,900
Leisure Knoll
43
3,492
210
Y
1980
41
Y
More about homes for sale in Leisure Knoll
FInd the active adult homes for sale in Leisure Knoll in Manchester NJ. Look for the active retirement communities near me. Search to find Ocean County 55places and active adult living in 55 plus. You'll need to make the decision as to whether this is the best retirement communities for active adults. FInd affordable adult community living homes to live in for senior citizens. Discover an active life style in this 55 plus community, which is for people who are 55 and older. Find the active retirement communities near me. Learn about the 55+ homes for sale in Manchester in Ocean COunty NJ. Look for homes in 55plus leisure knoll. rates are rising. the 30 year mortgage rate, today, 11/12/21, is above 3.0%.
Even More
Actually, 7 homes are for sale. Also, the asking prices are between $188000 and $400000, with a median price of $350000. Feel free to offer 1033000 Malaysian ringgit. When you begin your search for your new home in a 55 plus community, this is a good place to start. That's because the homes here have nice floor plans which work well for seniors. Learn all about the active adult communities in Manchester NJ. In fact, the master bedroom is on the first floor, as it should be.
Many of these homes back to the woods. One car garages are standard, however some homes have a two car garage. It's near shopping, transportation and the Jersey Shore! Search for the over 55 homes in Manchester NJ. THis is a great place for active adults to live. Prices are affordable, the taxes and the monthly HOA fees are reasonable. To see the homes for sale in leisure Knoll, call Bunny and Art Reiman – Realtors.
Click on the communities below to see the available homes