Shenandoah Commons
Shenandoah Commons, an active adult community in Toms River. To either buy or sell a home, call Bunny and Art Reiman – the Active Adult Community Specialists. We can help.
Call 732-616-6226 when you're ready to see active adult community homes
About Shenandoah Commons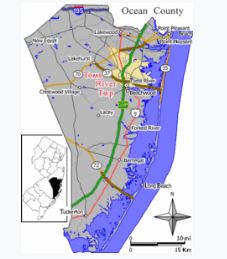 Shenandoah Commons is an 55+ Active Adult Over 55 community in Toms River, Ocean County, NJ. When you combine low taxes and low homeowners fees, it make this community a desirable destination for seniors. Because of it's location near Brick, it's near to the Garden State Parkway. Atlantic City is a little over an hour away, and New York is also within an easy drive.
The Homes in Shenandoah Commons
When it was built between 1993 and 1995, there were 58 single family homes The homes have 2 bedrooms, and, most have a 1 car garage. Generally, the homes are priced in the low $200,000's. In addition, some homes have a basement.
The Shenandoah Commons Clubhouse
Yes, there is a clubhouse. But frankly, with only 58 homes, there is not much going on. But this doesn't mean you cannot use facilities not in the community. There are public golf courses nearby, You can go fishing or boating. Shopping and dining are also in the area. If you have the desire, get out and do something.
Transportation
East/west transportation is available on Route 70.  Additionally, the Garden State Parkway is close. NJ Transit offers bus service on Route 9. In addition, there are Park and Ride locations nearby. Ocean Ride also provides bus transportation within Ocean County. Twelve bus routes connect key residential areas with popular destinations. The Reserve-A-Ride Program  provides non-emergency medical transport service to seniors. Advance reservations are necessary, but a nominal fee will be charged.
When you're ready to either buy or sell a home in Shenandoah Commons, contact us. Call Bunny and Art Reiman – the Active Adult Community Specialists.
Are you Looking For
Recently Sold Homes
During 2021, 2 adult community homes were sold in Shenandoah Commons. In addition, the average sale price was $247250.
Mortgage rates for a 30 year mortgage on 3/14/22 are around 3.875%. Additionally, there are no homes for sale at this time. Typically, homes sell for the mid $200000s or approx 884300 Chilean pesol.
If anyone asks, today's word is Shenandoah Commons.
Click on the communities below to see the available homes