Find homes for sale in Four Seasons Harbor Bay in Little Egg Harbor. If you're either a buyer or a seller, call us. We've sold hundreds of adult community homes and we can help you too.
Call 732-616-6226 when you're ready to buy or sell an adult community home.
Four Seasons Harbor Bay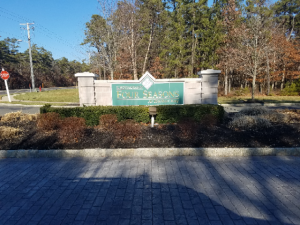 Four Seasons Harbor Bay in Little Egg Harbor is a gated, active adult community,with 387 homes. These homes are built upon gentle, rolling hills adjacent to Sea Oaks Golf Club, which is a public course. New construction started in 2007 but is no longer available. However, resales are usually available.
There's a homeowners association, therefore a monthly association fee will be assessed. The association is responsible for lawn maintenance, snow removal and common area maintenance.
Your pets are welcome in this community.
The Homes
The homes in Four Seasons Harbor Bay have either two, three or four bedrooms, and all homes have 2 car garages. Nine foot ceilings give an impression of openness, and many homes offer vaulted ceilings. Square footage on the homes ranges between between 1900 to 3200 square feet. Many homes offer scenic views of the golf course, while others provide privacy by backing to wooded areas. Some homes are tucked away on a cul de sac. Not all of the homes are the usual models offered in the various Four Seasons communities in the area. Eight different models of homes are offered, and a few of the homes have a loft. Additionally. some homes have a basement.
What's My House Worth? Ask us for a complimentary Market Analysis
The Four Seasons Harbor Bay Clubhouse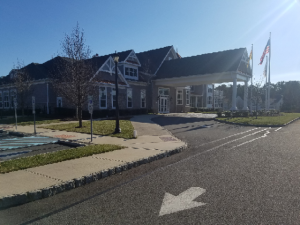 The 16,000 sq ft clubhouse is at the heart of Four Seasons Harbor Bay. When you move in, this is where to go to meet your neighbors and make new friends. It offers 16,000 sq ft with a ballroom, sauna and more. Whether it's warm or cold outside, swim in the indoor or outdoor pool. Amenities at Harbor Bay also include a billiards room, as well stocked library, a computer room, card room and craft rooms. Outdoors stay active with bocce, shuffleboard, tennis and pickle ball! Additionally, there's a State-of-the-Art fitness center so that you can stay in shape. In addition, you'll find trips and socials plus many clubs. And if there's not a club for your favorite activities? Start one!
Four Seasons Harbor Bay has a great location because it's just minutes from Long Beach Island, and it's also near to Atlantic City. Boating enthusiasts will appreciate that there are many marinas in the area. You can also enjoy fishing and crabbing nearby. Also, the Jersey Shore beaches are just minutes away.
Retire in style, because you deserve it
Transportation
The Ocean County transit system, Ocean Ride, provides bus transportation throughout Ocean County. 12 bus routes connect key residential areas with popular destinations such as shopping, employment, in addition to social services. The Garden State Parkway is nearby, which offers access to other major roadways.
Medical Service
Southern Ocean Medical Center is the nearest hospital to Harbor Bay. And where there's a hospital, there are many medical practices.
Ocean County also offers the Reserve-A-Ride Program, which provides door-to-door, non-emergency medical transportation service. This service transports seniors (age 60 and over) to medical facilities in Ocean County. Advance reservations are necessary but a fee is charged.
Four-Seasons-at-Sea-Oaks
Cranberry Creek – Little Egg Harbor
Recently Sold Homes
During 2021, 17 adult community homes were sold in Four Seasons Harbor Bay.. In addition, the average sale price was $359929.
| MLS # | Status | Address | Price | Complex/Subdivision | Sold Date | Bedrooms | |
| --- | --- | --- | --- | --- | --- | --- | --- |
1
22100616
C
14 Charleston Ct
$300,000
Harbor Bay
03/26/2021
2
2
22024243
C
25 Chatham Rd
$307,900
Harbor Bay
02/11/2021
3
3
22113794
C
249 Newport Way
$320,000
Harbor Bay
06/04/2021
2
4
22103920
C
9 Starboard Ct
$335,000
Harbor Bay
03/31/2021
3
5
22111693
C
47 Chatham Rd
$345,000
Harbor Bay
06/18/2021
2
6
22039985
C
54 Galley Way
$350,000
Harbor Bay
01/15/2021
2
7
22113737
C
2 Hamble Rd
$355,000
Harbor Bay
11/01/2021
2
8
22016291
C
25 Hamble Rd
$360,000
Harbor Bay
03/31/2021
3
9
22106669
C
285 Newport Way
$360,000
Harbor Bay
04/30/2021
2
10
22110887
C
123 Newport Way
$365,000
Harbor Bay
05/28/2021
2
11
22125416
C
9 Stemson Ct
$382,000
Harbor Bay
10/07/2021
2
12
22113176
C
52 Galley Way
$390,000
Harbor Bay
06/11/2021
2
13
22134785
C
25 Chatham Rd
$399,900
Harbor Bay
12/10/2021
3
14
22116362
C
260 New Port Way
$445,000
Harbor Bay
09/15/2021
3
15
22133386
C
117 Newport Way
$470,000
Harbor Bay
11/17/2021
4
In 2020, 17 homes were sold with an average price of $329806.
More about 4 Seasons Harbor Bay
Currently, on 1/27/22 there are not any homes for sale. Typical asking prices are in the mid $30000s0 to $500000 range (about 1649200 Mexican peso). mortgage rates have risen a bit, currently around 3.25%. In the past 6 months, the average sale price was $408667.
Find a Realtor near me. Search for harbor bay 55 and over communities to find the 55places adult community homes for sale in Ocean COunty or homes sale harbor bay. See if this is one of the best retirement communities for active adults in Little Egg Harbor (LEH). Find active retirement communities near me. Search the 55 and older communities and 55 plus communities which offer senior living and retirement communities. These adult living communities have luxury homes near the ocean. Buy your next house in homes sale harbor bay.
Click on the communities below to see the available homes