Meadows at Lake Ridge
Find the homes for sale in The Meadows at Lake Ridge – an active adult community in Manchester. Buying? Selling? Call us, because we can help.
About The Meadows at Lake Ridge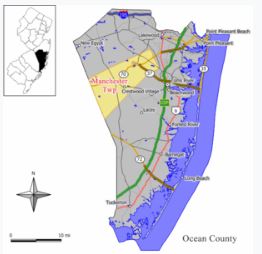 The Meadows at Lake Ridge is a 55+ Active Adult Over 55 Community in fact, is located in the Whiting section of Manchester, Ocean County. In 1999 construction on 230 homes began, and by 2003 construction was completed. However, resales are often available.
 While grocery shopping is nearby, major shopping areas are in Toms River and Brick. In addition, The Jersey Shore are a short ride away. Additionally, in just a few minutes you can be on the Garden State Parkway heading south to Atlantic City.
Because of the reasonable taxes and association fees this area a popular destination for seniors. The association is responsible for lawn maintenance, snow removal and trash removal. Therefore, a monthly fee is charged. And, as with many associations, there is a one time capital contribution fee due from the buyer at closing. In addition, your pets are welcome here.
The Meadows at Lake Ridge Homes
There are 230 homes in The Meadows at Lake Ridge, and 6 different models. These homes were built between 1999 and 2001 and have 2 bedrooms, 2 baths and either a 1 or 2 car garage. Home prices are typically under $300,000, the homes range in generally from under 1400 square foot to almost 2000 square foot. The homes were originally heated with oil, but many homes have been converted to gas heat.
The Meadows at Lake Ridge Clubhouse
The Meadows at Lake Ridge has a Clubhouse with an outdoor pool, Game Room,. Also, there are tennis courts, shuffleboard and a fitness center. Additionally, you'll find clubs, trips, social gatherings and more. Nearby you'll be able to enjoy local activities such as fishing, boating, golf, shopping, dining and much much more.
Are you ready to buy or sell?
When you're ready to either buy or sell a home in The Meadows at Lake Ridge, contact us. Call Bunny and Art Reiman – the Active Adult Community Specialists.
To see the active adult community homes in The Meadows at Lake Ridge call Realtors, Bunny & Art Reiman – the Adult Community Specialists
Recently Sold Homes 
Recently Sold Homes
During 2021, 14 adult community homes were sold in The Meadows at Lake Ridge. In addition, the average sale price was $289571.
| MLS # | Status | Address | Price | Sold Date | Taxes | Days On Market | Complex/Subdivision | Garage | Apx Year Built | Apx SqFt | |
| --- | --- | --- | --- | --- | --- | --- | --- | --- | --- | --- | --- |
1
22213641
C
29 Woodspring Ln
$290,000
08/18/2022
4,241
37
The Meadows @Lr
Y
1999
1,598
2
22213309
C
20 Woodspring Ln
$283,000
08/11/2022
3,992
32
The Meadows @Lr
Y
1999
1,479
3
22218279
C
2 Woodspring Ln
$310,000
08/04/2022
4,804
2
The Meadows @Lr
Y
2001
1,984
4
22225565
P
48 Clear Lake Rd
$319,000
3,963
11
The Meadows @Lr
Y
1999
1,493
5
22225520
P
33 Woodspring Ln
$289,900
12
The Meadows @Lr
Y
1999
Homes For Sale Meadows
30 year mortgage rates are rising. as of 9/15/22 the interest rate is about 6.08% or higher. there are no homes for sale currently. Typically, asking prices are between $215000 (about 227000 South African rand) and $300000. Find a Realtor near me.
FInd the homes for sale . Located in Whiting you can enjoy the peace and solitude you get from living away from commercial development. In adult living communities or active adult communities you'll have time to relax and enjoy life. Find the active retirement communities near me or the active adult communities near me. See if this is the best retirement communities for active adults,
Are the homes for sale good 55places in Ocean County?
Click on the communities below to see the available homes