Silveridge Park Westerly – Berkeley
Search for the homes for sale in Silveridge Park Westerly. If you're ready to either buy or sell a home here, call Bunny and Art Reiman – the Active Adult Community Specialists.
About Silveridge Park Westerly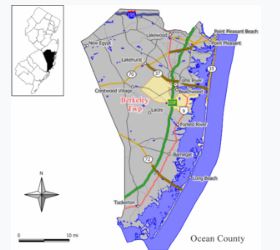 Silveridge Park Westerly is an active adult community in Berkeley Township. Indeed, it's part of what people refer to as "Holiday City: which has a total of about 16,000 homes. And, it's one of nine adult communities in the "Holiday City" area, which are Holiday City Berkeley Holiday City Carefree Holiday City West Holiday City South Holiday City Heights Silveridge Park West Silveridge Park East Silveridge North and Silveridge Westerly.
From it's location south of Route 37, it's a few miles west of the Garden State Parkway. Furthermore, the local hospital is minutes away.
Since there's a homeowners association, there's a monthly association fee. However, the HOA fees don't cover grass cutting and snow removal. Since the HOA fees don't cover grass cutting and snow removal, many homeowners cover their yard with rocks. But that explains why the monthly HOA fees are so low.
The Homes in Silveridge Park Westerly
During the late 1960s, construction started in Silveridge Park Westerly. Due to the low taxes and low HOA fees, this a desirable place to live. The homes for sale have 2 bedrooms, with either 1 or 2 baths. Additionally they have a 1 car garage. Most homes have gas fired hot water baseboard heat.
The Clubhouse
Silveridge Park Westerly has a clubhouse. You'll find there are numerous clubs, trips and social gatherings. Get involved at the clubhouse if you want to. Or don't, because it's up to you. When it gets hot, swim in the outdoor pool.
Nearby are the beaches at the Jersey Shore. And, you can enjoy local activities such as fishing, boating, golf, dining and more.
Transportation
Ocean Ride, provides bus transportation throughout Ocean County. One program provides non-emergency medical transport service for senior citizens. Advance reservations are necessary however, there's a fee. Furthermore, Ocean Ride has 12 local bus routes to key destination.
Call us when you're ready to either buy or sell a home Silveridge Park Westerly. Call Bunny and Art Reiman – the Active Adult Community Specialists.
Are you Looking For
Recently Sold Area Homes
During 2022, 41 adult community homes were sold in Silveridge Park Westerly. In addition, the average sale price was $291,244. Furthermore, $265000 was the median sale price during the past 6 months.
| | MLS # | Status | Address | Price | Complex/Subdivision | Sold Date | Days On Market | Taxes | Assn Fee | Bedrooms | Total Baths | Garage | Apx Year Built | |
| --- | --- | --- | --- | --- | --- | --- | --- | --- | --- | --- | --- | --- | --- | --- |
1
22238153
C
30 Nostrand Dr
$418,000
Silveridge Westerly
02/15/2023
7
3,347
30
2
2
Y
1981
2
22228877
C
104 Whitmore Dr
$286,000
Silveridge Westerly
02/01/2023
87
3,323
31
2
2
Y
1985
3
22234925
C
124 Whitmore Dr
$233,000
Silveridge Westerly
02/10/2023
64
3,500
31
2
2
Y
1985
4
22236799
C
33 Beaverbrook Dr
$299,000
Silveridge Westerly
02/14/2023
10
2,967
186
2
1
Y
1984
More Info about Silveridge Westerly
Actually, rates are down a little this week, as of today, 3/20/23, the average 30 year mortgage rate is roughly 6.51%. With that rate you should buy one of the homes for sale now before rates go even higher. However, right now there are 6 homes for sale in Silver Ridge Westerly. In addition, the asking prices are between $289000 and $424900. As a result it's a great time to sell. You should call us.
While the homes are actually in Berkeley Township, they typically sell for between $235000 to around $400000.
Click on the communities below to see the available homes