Fairways Lakewood
Find the homes for sale in The Fairways at Lake Ridge in Lakewood NJ. Whether you're ready to buy or sell a home here, call Bunny and Art Reiman – the Active Adult Community Specialists.
Call 732-616-6226 when you're ready to see adult community homes
About Fairways Lakewood NJ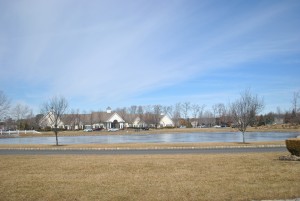 The Fairways Lakewood NJ is an Active Adult, 55 + Over 55 community in Ocean County. Between 1997 and 2002, over 1100 homes were built. You'll feel secure here due to the fact that this is a gated community.
Since there's a homeowners association, a monthly association fee will be assessed, which provides lawn maintenance and snow removal. Accordingly, you won't need to perform this chore.
Furthermore, like many 55+ communities, the HOA charges all new home owners a one time fee to join the HOA.
The Homes in Fairways Lakewood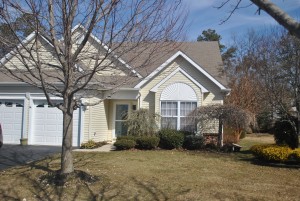 A wide variety of two or three bedroom, detached homes and attached houses are available, with either one or two car garages. The homes for sale in Fairways range in size from 1,300 to almost 3,000 square feet. Additionally, some homes have basements and/or lofts.
The Fairways Lakewood Clubhouse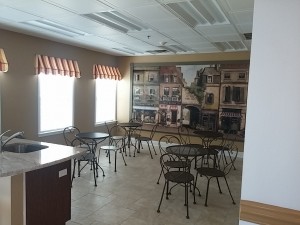 Since the 16,500-square-foot main clubhouse is the social center of Fairways Lakewood NJ, it's a great place to make friends and socialize with your neighbors. When the weather warms up, swim in the heated in ground pool. Conversely, when the weather is cold, swim indoors. Additionally, you'll find billiards, exercise facilities, tennis courts, jogging trails and much more. Activities and parties are hosted in the grand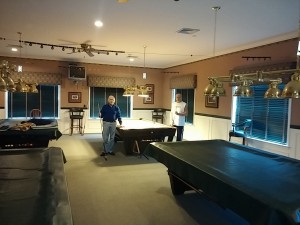 ballroom. Plus there are numerous clubs and activities, in addition to trips to New York and Atlantic City. And if they don't have a club for your favorite activities you can start one!
While Fairways Lakewood NJ at Lake Ridge doesn't have a golf course, it's adjacent to Eagle Ridge Golf Club. Additionally, there are other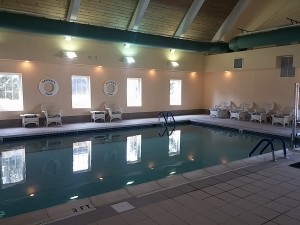 public golf courses in Ocean County. Also, you'll have ample opportunities to enjoy boating, fishing, bicycling and more activities in the area. Plus, the beautiful beaches at The Jersey Shore are just a few minutes away!
Transportation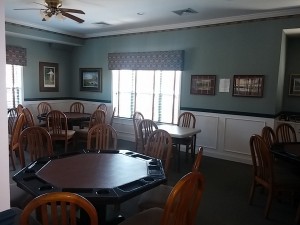 Fairways has a great location because east/west transportation is available via I-195 or Route 70, while north/south is available on nearby Route 9 or the Garden State Parkway. These roads will connect you to other major roadways in the area. In addition, Ocean Ride provides bus transportation within Ocean County. There are 12 bus routes connecting seniors in key residential areas with popular destinations such as shopping, employment, social services and connections to other means of transportation.
New Jersey Transit operates a bus depot in Lakewood which can provide bus transportation to New York, allowing you to see Broadway shows or if you still work. However, some people prefer train service, which is available nearby Point Pleasant.
Shopping and Dining
For serious shopping, visit one of the three major malls in the area in Toms River, Freehold and Eatontown. All are within a 30 minute drive. Route 70 and Brick Blvd in Brick and Lakewood have too many shopping centers to count. And the major warehouse clubs are also nearby. Possibly there are more restaurants in the area than stores. For some great seafood, visit one of the many fine restaurants in Brick or Point Pleasant. Many of them let you have a great meal while looking out over the river or a marina.
Medical Services
Nearby to The Fairways at Lake Ridge is Monmouth Medical Center, South Campus. Located in Lakewood on Route 9, it's a short ride away. And like most hospitals, there's a multitude of medical practices nearby.
Ocean County offers Reserve A Ride, which provides non emergency medical transportation for seniors aged 60 or better. Transport to any medical facility in Ocean County is provided. However, small fee will be charged for use of this service, and you'll need to make reservations in advance.
Recently Closed in the Fairways
During 2021, 97 adult community homes were sold in Fairways at Lake Ridge. In addition, the average sale price was $410500.
| MLS # | Status | Address | Price | Complex/Subdivision | Sold Date | Days On Market | Taxes | Bedrooms | Total Baths | # Car Garage | Fireplace | Assn Fee | |
| --- | --- | --- | --- | --- | --- | --- | --- | --- | --- | --- | --- | --- | --- |
1
22232465
C
37 Oakmont Rd
$400,000
Fairways @ Lkw
12/21/2022
35
6,745
2
2
2
N
212
2
22230478
C
5 Schoolhouse Ct
$555,000
Fairways @ Lkw
12/01/2022
30
5,693
3
2.1
2
207
3
22225523
C
9 Schoolhouse Ln
$405,000
Fairways @ Lkw
12/05/2022
15
5,066
2
2
1
212
4
22227087
C
187 Skyline Dr
$780,000
Fairways @ Lkw
12/14/2022
7
3
3
2
212
5
22231357
C
162 Skyline Dr
$429,500
Fairways @ Lkw
12/19/2022
45
6,456
2
2
2
Y
212
6
22222555
C
107 Skyline Dr
$880,000
Fairways @ Lkw
12/20/2022
10
5,914
3
3
2
Y
212
7
22231351
C
25 Deerchase Ln
$280,000
Fairways @ Lkw
12/21/2022
32
3,852
2
2
1
Y
330
8
22229487
C
55 Skyline Dr
$700,000
Fairways @ Lkw
12/22/2022
39
5,654
3
3
2
N
212
9
22224777
C
26 Foxwood Rd
$310,000
Fairways @ Lkw
12/22/2022
19
2
2
1
330
The Fairways at Lake Ridge
Indeed, he Fairways at Lake Ridge is an active adult community for people who are over 55 or 55 plus. You can find the 55places homes for sale Fairways that are currently for sale. Search the senior condos to see if this is one of the best retirement communities for active adults in Ocean County. And, the random country today is New Zealand. While rising, Mortgage rates for 30 year national average rates are about 6.91% as of 11/15/22. Also, 34 homes are available for sale. asking prices are between $270000 and $749000. Also – the median asking price is $469900, which is about 1766000 East Caribbean dollar. Indeed, this is one of the active retirement communities near me. Therefore, you can find over 55 community homes for sale in Fairways, an active senior living community. Are 55 and older communities the next step for you to live in? Maybe, because you'll be living in a community where everyone is 55 or older. As a result, you'll have many things in common with the neighbors, and in a community as large as this you'll have a good chance of making new friends. Find a Realtor near me. So, maybe it is time to sell your big family home and move to a active retirement community. If so, give us a call and let us help you sell your old home and buy a new one.
Click on the communities below to see the available homes