Lake Ridge Toms River
Search for homes for sale in Lake Ridge, Toms River NJ. If you're ready to either buy or sell a home here, call Bunny and Art Reiman – the Active Adult Community Specialists. We can help.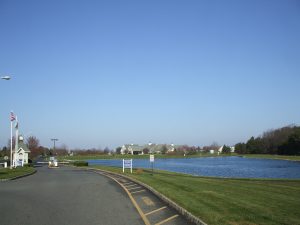 About Lake Ridge
Lake Ridge is an 55+ Active Adult Over 55 community in Toms River, Ocean County, NJ. This gated community is conveniently located because it's on Route 70 and Massachusetts Ave near the Manchester and Lakewood borders. It's 5 miles west of the Garden State Parkway, exit 89. Nearby you'll find shopping, dining and of course, the Jersey Shore. In addition, your pets are welcome here.

Since Lake Ridge has a homeowners association, a monthly association fee will be assessed. The monthly association fee  provides for lawn maintenance and snow removal (including driveways and walkways), as well as common area maintenance. As is common in many adult communities, a one time fee to join the HOA is due at closing.
Residents are also allowed use of the common areas and facilities, such as the clubhouse. As a result, you won't need to bring your snow blower and lawn mower. Additionally, there's a community shuttle bus along with a 24 hour attended security gate. 
The Homes in Lake Ridge
Between 1995 and 1997, 926 detached single family homes were built. These homes for sale in Lake Ridge have either 2 or 3 bedrooms, 2 baths and they have a 1 or 2 car garage, while a few homes have a loft.  Additionally, 7 different models were offered and home sizes generally range from about 1200 square feet to over 2300 square feet. Typically, homes sell between the upper $200,000's to around $400,000.
The Lake Ridge Clubhouse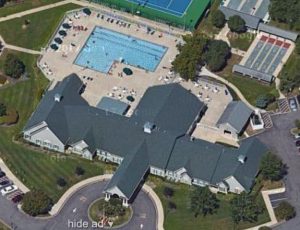 Lake Ridge has a 15,000 sq ft. clubhouse which offers a wide range of available activities, such as card rooms, billiards, bocci, or tennis. Or simply relax with a good book in the well stocked library. Additionally, there's a well equipped fitness center. When the weather gets either warm or cold, relax in the indoor and outdoor pools. A full time activities director is available to assist you. Furthermore, the grand ballroom is the place to be for dances, parties and entertainment.
Lake Ridge does not provide a golf course for it's residents. However, numerous public golf courses are nearby. And if you don't want to go golfing, visit the beaches at the Jersey Shore!
Transportation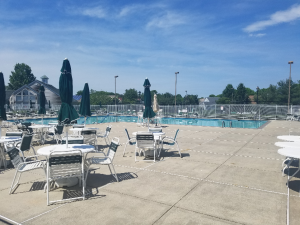 Conveniently located, East/west transportation is available via I-195 or Route 70, while north/south is available on nearby Route 9 or the Garden State Parkway. NJ Transit offers bus service on Route 9.  In addition, there's a Park and Ride located in Toms River. Ocean Ride also provides bus transportation within Ocean County. There are 12 bus routes connecting key residential areas with popular destinations such as shopping and connections to other means of transportation.
Medical Services
Nearby to Lake Ridge are Community Medical Center in Toms River and Monmouth Medical Center in Lakewood. Ocean County also provides non-emergency medical transport services. This is available to seniors over 60 who live in Ocean County adult communities. A small fee is charged for this service and you'll need to make reservations in advance.
Looking for your next home?
When you're ready to either buy or sell a home in Lake Ridge, contact us. Call Bunny and Art Reiman – the Active Adult Community Specialists.
What a weekend! After we left you,we went back to the house, then back for the wedding, then back to the house early Saturday morning and then back here to the "mother" house. Talk about being busy!

We are exhausted but did not want the weekend to end without saying "Thank You" again to both of you.

You have done all you could to help us through this process and it has been a smooth and even pleasant one for us.  Could not have been better. From our first meeting, we stated that you were all we could ever hope for in agents and that has proven to be the case. You are a very unique couple, achieving the perfect combination of professionalism with a personal touch.  It comes across clearly and you succeed at it very well. 

We appreciate your assistance and guidance. We will refer you to any of our friends who may need of you and of course, we will contact you should we require your services again.

Take care and again "Thank you"

 
The Real Estate Market
During 2021, 49 adult community homes were sold in Lake Ridge . In addition, the average sale price was $335293.  Furthermore, the average sale price in the past 6 months was $352530.
Recently Sold Homes in Lake Ridge
| MLS # | Status | Address | Price | Complex/Subdivision | Sold Date | Days On Market | Taxes | Assn Fee | Model | Garage | Apx Year Built | Attic – Walk Up | |
| --- | --- | --- | --- | --- | --- | --- | --- | --- | --- | --- | --- | --- | --- |
1
22214392
C
2619 Falcon Ln
$343,000
Lake Ridge
11/08/2022
130
4,024
549
ASHFORD W/SUNRM
Y
1996
2
22215529
C
2927 Rock Hill Ln
$425,000
Lake R!dge
10/14/2022
25
4,746
549
Lake Ridge I
Y
1997
3
22223224
C
3171 Wood Spring Ln
$425,000
Lake R!dge
10/17/2022
33
4,431
549
CAMBRIDGE II
Y
1997
4
22213910
C
3249 Flagstone Ct
$333,000
Lake R!dge
10/18/2022
117
4,067
549
ASHFORD W/SUNRM
Y
1998
5
22225604
C
2321 E Ashfield Ct
$425,000
Lake R!dge
10/26/2022
20
185
LakeRidge
Y
6
22229841
C
3241 Flagstone Ct
$390,000
Lake R!dge
10/27/2022
5
4,394
549
Cambridge II
Y
1998
7
22224179
C
2811 Danbury Ln
$385,000
Lake R!dge
11/01/2022
49
4,651
549
Lakeridge I
Y
1996
8
22228258
P
2477 Spring Hill Dr
$370,000
Lake R!dge
6
4,024
549
ASHFORD W/ SUNRM
Y
1995
9
22231710
P
2374 Torrington Dr
$439,000
Lake R!dge
5
4,531
549
Lakeridge/ Remodeled
Y
1995
10
22224893
P
2488 Spring Hill Dr
$410,000
Lake R!dge
48
4,746
549
LAKE RIDGE I – CRAWL
Y
1995
11
22231183
P
3028 Fieldcrest Ln
$404,000
Lake Ridge
11
4,421
549
CAMBRIDGE II
Y
More about Lake ridge Toms River NJ
You'll find that 12 homes are for sale as of 11/15/22 with asking prices between $349000 and $439995, while the median asking price is $402500. In Malawian kwacha that's about 1466100. Mortgage rates, while rising, are still reasonable, averaging about 6.91%. However, in Belarus, it's 7.25%.
Furthermore, Belgium is the random country of the day.
your love the great convenient location which is right off of route 70. shopping is available. a large shop rite is just a few miles away. and you're close to the jersey shore beaches. Find a Realtor near me.
Search the homes for sale in lake ridge community toms river nj. Seek the 55 places toms river nj. Learn about adult community living in Lake RIdge in Toms River NJ. Seek the 55places in Ocean COunty NJ. Find 2 bedroom adult community homes in Toms River NJ. Search out the over 55 homes in Toms RIver and learn about the active adult community Lake Ridge. Decide if this is the best retirement communities for active adults. Enjoy living an active life style in this 55 plus community, for people who are 55 and older. Search for Find active retirement communities near me. The homes for sale are 2 bedroom homes, while other for sale are 3 bedroom homes.
Click on the communities below to see the available homes