Winding Ways – Jackson
Search the homes for sale in Winding Ways, an Active Adult community in Jackson, NJ. Whether you're a buyer or a seller, call us. We've sold hundreds of adult community homes and we can help you too.
Call 732-616-6226 when you're ready to see homes in Winding Ways.
About Winding Ways
Winding Ways is an Active Adult, 55+ Over 55 community in Jackson, NJ. Ideally located in northern Jackson, it's minutes away from shopping on Route 9. Additionally, there are three major malls within 30 minute drive in Freehold, Eatontown and Toms River. Route 195 provides easy access to the east and west, while the Garden State Parkway is near. Shopping can be found on Route 9, starting in Lakewood and continuing north, also on Route 70 in Brick. Additionally, there is a wide range of dining choices in the area. Nearby you can enjoy local activities such as fishing, boating, shopping, dining and much more in the area.
The Homes in Winding Ways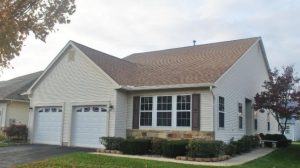 Between 1988 and 1997, 495 single family detached homes were built. Set in a peaceful wooded area, the homes for sale in Winding Ways have either 2 or 3 bedrooms with 2, 2.5 or 3 baths. And, all homes come with either 1 or 2 car garages. Houses generally have between 1200 sq ft and 1800+ sq ft. Some of the homes have a fireplace and the homes are heated with natural gas. Some homes have a loft while some homes have a basement. Typically, the selling prices on these homes are in the middle price ranges.
Winding Ways is indeed, a gated community. Since there's a homeowners association, a monthly HOA fee will be assessed. However, the monthly maintenance fee provides for lawn care and snow removal. Also, like many other adult communities, a one-time fee will be charged to all new home owners by the HOA. Additionally, your pets are welcome.
The Winding Ways Clubhouse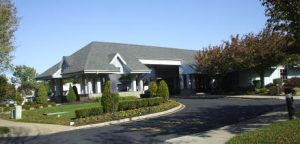 Winding Ways has a 15,000 square foot club house, which is the social hub of the community. Also, this is the place to go to meet your neighbors and make new friends. Consequently, there's plenty of room for activities or to meet with friends. Relax in the well stocked library and read a good book. Or play billiards, bocce or just visit with friends. When the weather gets warm, the large pool is the place to be. Also, there's a fully equipped exercise area for those who want to stay in shape. The ballroom is the place for social events, dances, parties and movies. You'll also find card rooms and hobby rooms. There are many clubs and activities in Winding Ways to keep you busy and involved. And if there isn't a club for whatever activity you enjoy, start one!
While Greenbriar Winding Ways doesn't have a golf course, there are many public courses available in Ocean County. In addition, many marinas are in the area if you're a boater. Also – the beaches at the Jersey Shore are 30 minutes away.
Dining and Shopping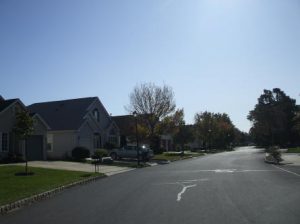 Many options are in the area to select from when it comes to dining out. You'll find most of the national and local chain restaurants are in the area. But don't forget to try the non- chain locations. You'll find some great restaurants in downtown Freehold, about 10 miles away. For a fine dining experience, try The American Hotel.
It seems that Route 9 is a never ending strip shopping mall. And if you can't find what you want there, try Freehold Raceway Mall. One of the 200 plus stores will probably have what you want. A newer Shop Rite is a few miles away in Howell, and the major warehouse clubs are also nearby.
Transportation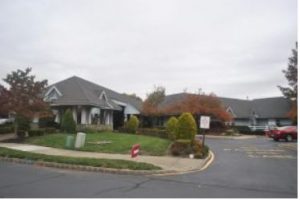 The Ocean County Department of Transportation Services county transit system, Ocean Ride, provides bus transportation throughout Ocean County with local bus routes to shopping, other adult communities and more. Major roadways are easily accessed and bus transportation to New York is available on Route 9.
Medical Services
Nearby to Winding Ways are Monmouth Medical Center on Route 9 in Lakewood and Centra State Hospital in Freehold. Additionally, a Hackensack Meridian Health Care facility is only a mile away.
Ocean County's Reserve-A-Ride provides door-to-door, non-emergency medical transportation service to seniors (age 60 and over) and persons with disabilities to medical facilities in Ocean County. Also, a nominal fee will be charged and advance reservations are required.
Ready to Move?
When you're ready to either buy or sell a home in Greenbriar Winding Ways, contact us. Call Bunny and Art Reiman – the Active Adult Community Specialists.
Equestra – Howell/Farmingdale
Surrey Downs – Howell NJ
Recently Sold Homes
During 2022, 34 adult community homes were sold in Winding Ways. In addition, the average sale price was $343785
In addition, the median sale price during the past 6 months was $349000.
During September 2023, no homes were reported as sold to the MLS.
Possibly, you'll be asked to enter a code in order to continue. If that happens, type in WINDING WAYS HOMES FOR SALE.
Homes for sale in Winding Ways Jackson
yet another hidden gem when it comes to adult communities. You get a lot of value here. Search the Homes for sale in Winding Ways Jackson.
As of 10/1/23, the average mortgage rates are around 7.75%. You'll learn that the Homes for sale in Winding Ways Jackson are detached single family homes. In fact, these Homes for sale in Winding Ways Jackson make a great place to retire. When you add up the fact that there are lower taxes and lower property costs than Monmouth county, the choice is clear.
Currently, there are 2 homes for sale Typically, the asking prices are between $300000 and $450000.
Click on the communities below to see the available homes