Find your new home in River Pointe, an active adult community in Manchester NJ. Whether you're a buyer or a seller, call us. We've sold hundreds of adult community homes and we can help you too.
Call 732-616-6226 when you're ready to see adult community homes
River Pointe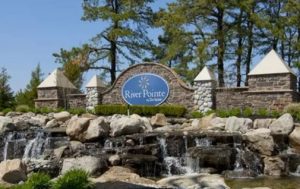 River Pointe is an Active Adult gated community in Manchester, Ocean County, NJ. New construction is no longer available. However, resale homes are often available. Just north of Route 70, it's near The Lakehurst Naval Air Station. For your information, that was the site of the Hindenburg disaster. It's ideally located because it's near to shopping malls, beaches, dining and much more.
There's a homeowners association, therefore a monthly association fee will be assessed. The HOA takes care of lawn maintenance and snow removal. Consequently, you don't.
As is normal in many adult communities, the HOA charges a one-time fee to all new homeowners.
The Homes
Starting in 2007 over 500 homes were built in River Pointe. The community started with 8 different model homes available. And, over the years a few other models have been added. The homes have either 2 or 3 bedrooms and a 2 car garage. And some models have a loft that adds a third bedroom. Sizes generally range between 1,269 and 2,799 square feet. In addition, your pets are welcome in River Pointe. Typically, homes in River Pointe sell between the low $300,000s to the upper $400,000s.
The Clubhouse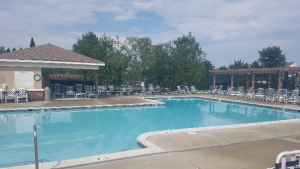 The social center of River Pointe is the 16,000 sq ft clubhouse. You'll find a card rooms, tennis, bocce and more. Or you can relax in the well stocked library with a good bool. No matter what the weather is, you can swim because there are indoor and outdoor pools. Also, there's a fitness center for those who want to stay in shape. And when your computer goes down, there's a computer lab for residents to use.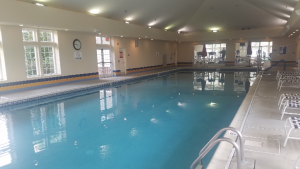 Even though this is not a golf community, there are numerous public golf courses in the area. Numerous clubs are available to join, and trips are planned.
You can be as active or as in-active as you want. River Pointe has a great location because it's only minutes to the beaches at The Jersey Shore. Also, Atlantic City is about an hour's drive away. You can enjoy local activities such as fishing, boating, shopping, dining and much much more.
Shopping and Dining
The major shopping areas near River Pointe will be Route 70 in Brick, Route 37 in Toms River and Route 9 from Lakewood to points north. There are three major malls which are 45 minutes or less away in Freehold, Eatontown and Toms River.
You'll find a tremendous selection of dining in the area. Most major restaurant chains have a presence in the area, but the real gems are the non-chain restaurants. About one mile away is the Lakehurst Diner, where you can get a surprisingly good seafood dinner.
Transportation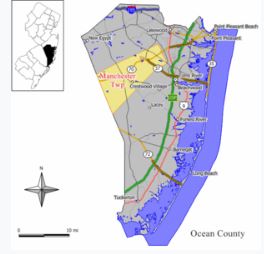 Ocean County provides a county transit system, Ocean Ride. This offers bus transportation throughout Ocean County. Ocean Ride has 12 local bus routes to shopping, other adult communities and more.This is a free program for seniors (aged 60 and older), but many of the riders tip the driver.
Easy access to Routes 37 and 70 lead to connections with other major roadways. Nearby, in Toms River, you'll find a Park and Ride lot which provides transport to New York City, among other locations. Rail service to New York is also available in Point Pleasant.
Medical Services
Nearby to River Pointe is Community Medical Center. Near it's location on Route 37 in Toms River, you'll find many various medical practices. Additionally, nearby in Jackson, Hackensack Meridian Health Care has a major facility .
Ocean County also provides another transportation service. Non-emergency medical transportation service for seniors is available from Ocean County's Reserve-A-Ride Program. This will take you to any medical facility in Ocean County, and back. Actually, advanced reservations are required and a nominal fee is charged for this service.
When you're ready to either buy or sell a home in River Pointe, contact us. Call Bunny and Art Reiman – the Active Adult Community Specialists.
Recently Sold Homes
During 2021, 29 adult community homes were sold in River Pointe. In addition, the average sale price was $414952.
| MLS # | Status | Address | Price | Complex/Subdivision | Sold Date | Bedrooms | |
| --- | --- | --- | --- | --- | --- | --- | --- |
| MLS # | Status | Address | Price | Complex/Subdivision | Sold Date | Days On Market | Bedrooms | Taxes | Assn Fee | |
| --- | --- | --- | --- | --- | --- | --- | --- | --- | --- | --- |
1
22136608
P
109 Addlestone Ln
$419,900
River Pointe
29
2
322
2
22124655
C
2 Inverness Ln
$370,000
River Pointe
10/13/2021
20
2
6,484
322
3
22128597
C
1 Jarrowood Ln
$399,900
River Pointe
10/18/2021
7
2
5,790
322
4
22125939
C
2 Edenbridge Ln
$470,000
River Pointe
11/01/2021
47
3
7,047
322
5
22129529
C
59 Addlestone Ln
$335,000
River Pointe
11/03/2021
21
2
5,585
322
6
22129268
C
2 Chalfont Ln
$490,000
River Pointe
11/12/2021
1
3
7,311
322
7
22130087
C
5 Radcliffe Ln
$440,000
River Pointe
11/23/2021
49
3
7,653
322
8
22136445
C
60 Aberdeen Ln
$486,000
River Pointe
12/30/2021
10
3
7,242
322
In 2020, 26 homes were sold here, and the average sale price was $390831. Also, during the previous 5 months, $419900 was the median sale price.
More Info
Possibly, if you'd like to proceed, enter BUY SELL RIVER POINTE HOMES .
Mortgage interest rates are going up. as of 1/27/22, a 30 year mortgage has an interest rate of about 3.25%. And that is for conventional, VA or FHA loans. Additionally, there is only 1 home for sale here, and the asking price is $399900. Furthermore, typical asking prices exceed $400000, which, in Paraguayan guarani is about 1980600. Is this a bargain or what?
if you enjoy golfing, you'll love it here. that's because there are many golf courses nearby. and if you don't enjoy golf, you'll still love it here. that's because of the great home designs and the active adult clubhouse. if you can't stay busy here, you are just not trying. Actually, the larger the community, the more residents. And the more residents, the better the chances are that you'll make lots of new friends
Click on the communities below to see the available homes