Search the active adult community homes available for sale in Holiday City Berkeley. If you're either a buyer or a seller, call us – Realtors Bunny and Art Reiman. We've sold hundreds of adult community homes and we can help you too.
There are nine separate communities which comprise what is commonly called Holiday City.  Holiday City Berkeley Holiday City Carefree Holiday City West Holiday City South Holiday City Heights Silveridge Park West Silveridge Park East Silveridge North Silveridge Westerly
Holiday City at Berkeley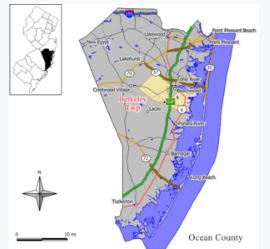 Holiday City at Berkeley is an Over 55 Active Adult community in Berkeley, Ocean County, NJ. Quite often, people think the homes in the Holiday City area are in Toms River, but they are in Berkeley.  But actually, Holiday City at Berkeley is comprised of many different communities. And, the communities are listed above. Each of the communities has their own clubhouse and offer many clubs and activities – including trips to Atlantic City and elsewhere. Furthermore, some, but not all communities also have an outdoor pool. If you want to be in a community which has a pool, check it out before you purchase a home. Because this will ensure that the community you choose has one available.
The Homes
While construction started in Holiday City over 40 years ago, the nine communities have almost 16,000 houses. Furthermore, newest homes were built in the 1990's. The detached single family homes for sale in Holiday City are typically 2 bedrooms Additionally, they have either 1 or 2 baths. Also, most have a 1 or 2 car garage. All of the homes are single story homes. However, there are no basements. As a result, there will be no stairs for you to climb. In fact, there are over 20 different models of homes in Holiday City.
Typically, home prices in the Holiday City area start around $100,000 and can go up as high as $300,000 – or more.
The Area
 Since there are numerous stores in Holiday City and the immediate area, these homes are in a great location. And, for many homes, shopping is within walking distance. Additionally, other shopping, such as the Ocean County Mall, are within easy driving distance. You'll find that a Wal-Mart is located right across the highway.  Plus, private bus service is also available from each of the nine clubhouses. Additionally, lawn service, snow removal and common area maintenance are also included in the low monthly maintenance fees in most of the communities. When you add in low taxes, this makes Holiday City an affordable place to live.
When you're ready to either buy or sell a home in an active adult community, contact us. Call Bunny and Art Reiman – the Active Adult Community Specialists.
Transportation
Ocean County provides bus transportation throughout Ocean County. In fact, 12 bus routes connect seniors in key residential areas with popular destinations, such as other transportation hubs, shopping destinations and social services. A Park and Ride is located nearby in Toms River. This bus terminal, operated by New Jersey Transit, offers local bus service to Lakewood, Seaside Park, Atlantic City, Jersey City and Newark. From these locations, you can connect with bus or trains service to other locations.
The Garden State Parkway, exit 81, is nearby, along with access to other major roadways in the area.
Medical Services
When you need medical care, Community Medical Center is nearby on Route 37. There are numerous doctors and medical practices in the area. Furthermore, Ocean County has a medical transport service for seniors, aged 60 and older. The Reserve-A-Ride Program  provides door-to-door, non-emergency medical transportation service. This transports seniors (age 60 and over) to medical facilities in Ocean County. You'll need to make advance reservations  however, a fee is charged.
When you're ready to either buy or sell a home in an active adult community in Holiday City Berkeley, contact us. Call Bunny and Art Reiman – the Active Adult Community Specialists. We can help you find the homes for sale in Holiday City.
Recently Sold Homes in Holiday City Berkeley
In 2020,  226 homes have sold in Holiday City Berkeley, with an average sale price of $187378.
| MLS # | Status | Address | Price | Complex/Subdivision | Bedrooms | Total Baths | List Price | Sold Price | Sold Date | Days On Market | Garage | County | Minimum Age | |
| --- | --- | --- | --- | --- | --- | --- | --- | --- | --- | --- | --- | --- | --- | --- |
1
22041113
C
221 Barbados Dr N
$250,000
Hc Berkeley
2
2
248,900
250,000
03/31/2021
52
Y
Ocean
55
2
22102790
C
53 Guadeloupe Dr
$235,000
Hc Berkeley
2
1
227,000
235,000
04/01/2021
25
Y
Ocean
55
3
22102690
C
148 Charlotteville Dr S
$310,250
Hc Berkeley
2
2
299,000
310,250
04/02/2021
10
Y
Ocean
55
4
22106059
C
120 Barbuda St
$199,000
Hc Berkeley
2
2
169,900
199,000
04/02/2021
4
Y
Ocean
55
5
22025828
C
2 Newcastle Ct
$246,000
Hc Berkeley
2
2
248,888
246,000
04/02/2021
171
Y
Ocean
55
6
22030969
C
212 Charlotteville Dr N
$200,000
Hc Berkeley
2
1
200,000
200,000
04/09/2021
38
Y
Ocean
55
7
22035375
C
252 Fort De France Ave
$235,888
Hc Berkeley
2
2
235,888
235,888
04/09/2021
29
Y
Ocean
55
8
22102716
C
30 Port Royal Dr
$275,000
Hc Berkeley
2
2
262,000
275,000
04/09/2021
17
Y
Ocean
55
mortgage rates on 4/10/21 are about 3.125%. this is up from last week. In Nigeria the rate is 7.2%. after all, 9 homes are for sale in HC Berkeley. Typically, the asking prices are between $185000 and $280000. in addition, the median asking price is $245000. Also, the value in Macedonian denar is approx 583300.
Click on the communities below to see the available homes