Greenbriar I, Brick
Find the homes for sale home in Greenbriar 1. If you're ready to either buy or sell a home here, call Bunny and Art Reiman – the Active Adult Community Specialists. We can help.
About Greenbriar I, Brick

Greenbriar 1 in Brick NJ is a 55+, Active Adult Over 55 Community. It's ideally located because it's nearby to the Garden State Parkway (Exit 91), the Jersey Shore and all major shopping, There's a homeowners association, therefore a monthly association fee will be assessed. HOA fees are reasonable, and additionally, the taxes are usually under $3000 per year. However, the fees cover lawn maintenance, snow removal and use of the common areas and clubhouse. As a result, you won't need to cut grass or shovel snow. Furthermore, there is a one time buy in fee payable at closing by the new owner.
The Homes in Greenbriar 1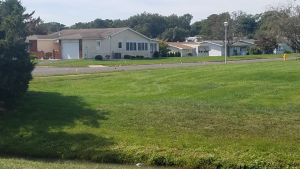 During the 1970's, 1400 single family detached homes were built in Greenbriar 1. These homes have either one or two bedrooms, and have 1, 1.5 or 2 baths. In addition, all homes have a 1 car garage, but none have a basement. Typically, homes in Greenbriar I sell between $200,000 to the upper $300,000's.
The homes are heated by electric, and most people equate electric heat with high heating bills. However, there are affordable ways to keep those heat bills under control. To learn more about these options, read the post below.
Electric Heat Homes
In addition, your pets are welcome at Greenbriar 1.
The Greenbriar 1 Clubhouse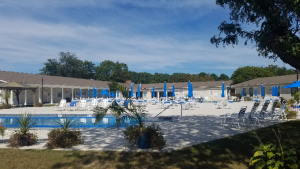 In Greenbriar 1 the social hub of the community is the active  clubhouse. You'll have access to a number of activities which will allow you to socialize and keep fit. Clubs, trips, socials and more are available, and a monthly newsletter will keep you up to date. Also provided is an exercise area for those who want to stay in shape. When the weather gets warm you can swim in the outdoor pool. You can be as active or as in-active as you want. In addition, from this community it's only minutes to The Jersey Shore beaches. Also, you can enjoy local activities such as fishing, boating, golf, shopping, dining and much much more.
While Greenbriar 1 doesn't have a golf course, there are many courses available in Ocean County.
Transportation
Bus transportation throughout Ocean County is provided by the Ocean County transit system, Ocean Ride. 12 bus routes connect key residential areas with popular destinations such as shopping, and other adult communities, in addition to social services. Nearby, you'll find Park and Ride lots for bus service to New York. New Jersey Transit operates a train station in Point Pleasant. And access to major roadways is simple from Greenbriar.
Shopping, Recreation and Dining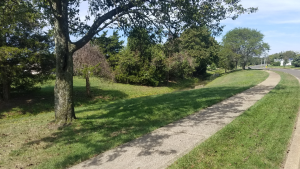 Nearby, you'll find almost any kind of shopping you desire on either Route 70 or Hooper Ave. In addition, Route 9 in Lakewood and heading north are many more shopping options. Raceway Mall in Freehold is 20 minutes away, and it features more than 200 stores and restaurants.
Brick offers a summer concert series at Windward Beach. This features top local bands, just bring a chair and enjoy the music. Once we saw Blood, Sweat and Tears there, and it was a great show. You can also go to Red Bank's Count Basie Theater. This venue offers plays, concerts and other shows. In Red Bank you'll also find the Twin Rivers Theater, which puts on some great plays. The boardwalk in either Seaside Heights or Point Pleasant is a great way to pass some time and get some fresh air and exercise.
Nearby you'll find many options for dining out – both formal and casual. You'll find some fantastic seafood restaurants nearby in Point Pleasant.
Medical Services
Nearby in Brick is  the Ocean Medical Center, which is located on Jack Martin Blvd. Surrounding the hospital are a number of different medical practices.
Ocean Rides Reserve-A-Ride Program  provides seniors (age 60 and over) with round trip door-to-door, non-emergency medical transportation service to medical facilities in Ocean County. You'll need to make advance reservations,  however, a fee will be charged.
Ready to Move?
When you're ready to either buy or sell an active adult community home, contact us. Call Bunny and Art Reiman – the Active Adult Community Specialists
The Real Estate Market
During 2021, 91 adult community homes were sold in Greenbriar I. In addition, the average sale price was $258547.  Furthermore, the median sale price for the previous 6 months was $312000.
Recently Closed in Greenbriar 1
| MLS # | Status | Address | Price | Complex/Subdivision | Sold Date | Days On Market | Taxes | Bedrooms | Total Baths | # Car Garage | Fireplace | Assn Fee | |
| --- | --- | --- | --- | --- | --- | --- | --- | --- | --- | --- | --- | --- | --- |
1
22234651
C
4 Owen Ln
$295,000
Greenbriar I
12/21/2022
12
2,447
2
1
1
N
145
2
22230205
C
57 Tony Ct
$340,000
Greenbriar I
12/02/2022
11
2
1.1
1
145
3
22229167
C
42 Whitman St
$367,000
Greenbriar I
12/02/2022
21
2,550
2
1.1
1
145
4
22230336
C
6 Dryden Rd
$380,000
Greenbriar I
12/02/2022
36
2,481
2
2
1
145
5
22229873
C
73 Central Blvd
$365,000
Greenbriar I
12/01/2022
29
2,806
2
2
1
145
6
22231635
C
25 Patmore Rd
$366,400
Greenbriar I
12/05/2022
5
3,114
2
2
1
145
7
22231145
C
10 Kingsley Ct
$277,000
Greenbriar I
12/09/2022
39
2
1.1
1
145
8
22236835
P
8 King Ln
$254,900
Greenbriar I
16
2,578
2
1.1
1
145
9
22233688
P
7 Lowell Ct
$264,500
Greenbriar I
33
2,392
2
1
1
N
145
10
22231019
P
53 Watkins Rd
$264,500
Greenbriar I
50
2,268
2
1
1
N
150
11
22237679
P
18 Fletcher St
$345,900
Greenbriar I
2
3,476
2
2
1
N
155
More About homes for sale in Greenbriar 1 Brick NJ
Although rising, the national interest rates for a 30 year mortgage, as of 11/15/22, average about 6.91%. Also, currently there are 11 homes for sale with asking prices between $259900 and $399000. And, today's randomly interesting country is Sweden.
FInd the homes for sale in greenbriar 1 brick nj — . Search to find active adult communities near me and 55 and over communities in ocean County NJ. Learn if Greenbriar 1 is the best retirement communities for active adults. These 55places or 55 and older communities are designed for active adult living. Adult living communities or 55 and over communities will keep your mind and body active and functioning. THere are many homes for sale brick nj on over 55 communities. Search the over 55 communities in new jersey or ocean county. Look for homes for sale in Greenbriar 1. Find a Realtor near me.
Click on the communities below to see the available homes