Four Seasons Metedeconk Lakes
Search the homes for sale in Four Seasons Metedeconk Lakes. Whether you're a buyer or a seller, call us – Bunny and Art Reiman – Realtors. We've sold hundreds of adult community homes and we can help you too.
Call 732-616-6226 for an appointment to see adult community homes
Four Seasons Metedeconk Lakes
Four Seasons Metedeconk Lakes is an Active Adult community in Jackson, NJ. Due to it's great location on the Freehold border, it's nearby is I-195, Route 9, shopping, dining and transportation.
Between 2002 and 2008, 778 private, upscale single family homes were built by K Hovnanian.
Since there's a homeowners association, a monthly association fee will be assessed, which provides lawn maintenance, snow removal. and use of the clubhouse and common areas Consequently, you'll have more time for yourself because someone else will do these tasks. Also, as is common in many adult communities, a one time fee will be charged to the purchaser by the HOA.
The Homes in Four Seasons Metedeconk Lakes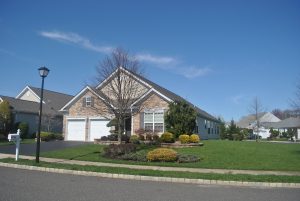 Seven different models with between 1546 sq ft and 3423 sq ft. are available. And while most of the homes for sale in Four Seasons are single level homes, some have lofts. In addition, all homes have the master bedroom on the main floor. These luxurious homes have between two and five bedrooms with 2, 3 or 3.5 baths, all with 2 car garages and a few of the homes also have basements. Also, a walk up storage area over the garage was a popular option to the original buyers. Since new construction is no longer available, these homes are resales only.
Typically, these homes sell from the mid $300,000s to as high as $800,000.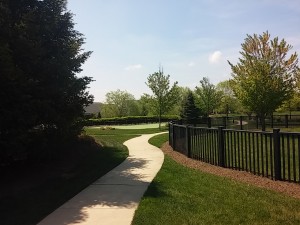 In addition to the main section, there is an additional section of homes in Four Seasons Metedeconk Lakes. These homes were the last ones built. While these homes are, in theory, within walking distance of the clubhouse, most people will drive. Additionally, some of the homes in the new section came with solar panels installed.
The Four Seasons Metedeconk Lakes Clubhouse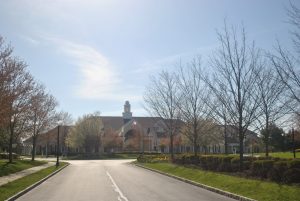 Since the 28,000 square foot clubhouse is the social hub of Four Seasons Metedeconk Lakes, this is where you'll go to meet and socialize with your neighbors. World class amenities are available and feature indoor and outdoor pools in addition to a state of the art fitness center to keep you healthy. You'll also find both indoor and outdoor spas near the pools. The fabulous ballroom is used for parties and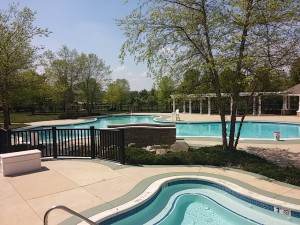 social get-togethers. In order to keep you connected, computers are available for residents use. Also available are billiards, card rooms, tennis courts, bocce, numerous clubs, a well stocked library and much, much more. Also, your grandchildren are welcome in the clubhouse and can enjoy the activities with you.
Numerous golf courses, both public and private, are nearby. And the best part is that you can be as involved or as un-involved as you like. In addition, the Jersey Shore beaches are a short ride away.
Entertainment, Recreation and Dining
Since there are many things to do in the area near Four Seasons at Metedeconk Lakes, if you can't keep busy, you're not trying very hard.
If you love boating, many marinas are available in the Brick area where you can dock your boat. Enjoy the many parks in both Ocean and Monmouth counties. Many towns in the area offer free concerts during the summer, which feature top local bands. In Red Bank, visit the Twin Rivers Theater or the Count Basie Theater for musicals, plays, concerts and more. Nearby in Point Pleasant, visit Jenkinsons Pier. Furthermore, the beaches at the Jersey Shore are only 30 minutes away!
Nearby is Raceway Mall in Freehold, which features over 200 stores. And a large, newer Shop Rite is only 3 miles away while Routes 9 and 70 are filled with shopping centers. And in addition to many of the major chain restaurants, many independent restaurants are nearby as well.
Transportation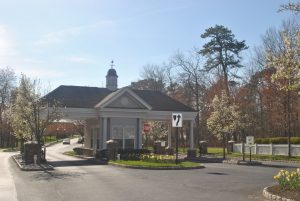 East/west transportation is available via I-195, which will connect to either the New Jersey Turnpike or the Garden State Parkway. From Four Seasons at Metedeconk Lakes, destinations north and south are available on nearby Route 9. NJ Transit offers bus service on Route 9, there is also a Park and Ride located in Jackson. Ocean Ride also provides bus transportation within Ocean County, with 12 bus routes connecting key residential areas with popular destinations such as shopping, employment, social services and connections to other means of transportation.
Medical Care
Nearby to Four Seasons at Metedeconk Lakes are Centra State in Freehold. and Monmouth Medical Center in Lakewood. In addition, Hackensack Meridian Health has a major facility a few miles away in Jackson.
Ocean Ride also provides door to door, non-emergency medical transport services. This service will take senior citizens (60 and older) to and from any medical facility in Ocean County. However, a nominal fee is charged for this service, and advance reservations are required.
Are You Ready to Move to an Adult Community?
Whether you're buying or selling, we can provide you with the highest levels in real estate expertise and professionalism. So, do like hundreds of our clients have done and contact us, Bunny and Art Reiman – the Active Adult Community Specialists, to guide you through the process!
Riviera at Freehold
Four Seasons at South Knolls
Westlake Golf & Country Club
Recently Sold Four Seasons Metedeconk Lakes Homes
During 2022, 29 adult community homes were sold in Four Seasons at Metedeconk Lakes. In addition, the average sale price was $579,241. Furthermore, the median sale price in the previous 6 months was $585000.
| MLS # | Status | Address | Price | Complex/Subdivision | Sold Date | Days On Market | Taxes | Assn Fee | Bedrooms | Total Baths | Garage | Apx Year Built | |
| --- | --- | --- | --- | --- | --- | --- | --- | --- | --- | --- | --- | --- | --- |
| | | | | | | | | | | | | | | |
| --- | --- | --- | --- | --- | --- | --- | --- | --- | --- | --- | --- | --- | --- | --- |
| 1 | 22307603 | P | 17 Spencer Dr | $518,000 | Four Seasons @ Metedeconk Lakes | | 22 | 6,642 | 310 | 2 | 2 | Y | 2003 | |
| 2 | 22303048 | P | 1 Park Ridge Way | $650,000 | Four Seasons @ Metedeconk Lakes | | 54 | 11,247 | 310 | 3 | 2.1 | Y | 2005 | |
| 3 | 22304758 | C | 21 Balmoral Dr | $585,000 | Four Seasons @ Metedeconk Lakes | 04/06/2023 | 3 | 9,238 | 310 | 3 | 2 | Y | 2006 | |
More Info
If you wish to continue, you may be prompted to enter enter BUY SELL FOUR SEASONS METEDECONK HOMES FOR SALE.
Since mortgage rates are rising, now is a great time to buy. As of 5/823, the national average 30 year mortgage rate is at 6.71%. However, it may still go up.
Homes For Sale Four Seasons at Metedeconk Lakes
Additionally, as of 5/8/23, there are 4 homes for sale here asking between $614900 and $725000. Indeed, the average home sells for more than $500000, which is roughly 1499700 Macanese pataca. Furthermore, asking prices for these homes are typically $500,000 and up. In fact, there are 4 homes under contract.
Actually, this upscale 55 and over community features luxurious homes to go with the relaxed life style. Indeed you can enjoy for sale four seasons senior living in the fine 55places complex. To begin with search to find your new home for sale four seasons Metedeconk Lakes in active retirement communities near me in Ocean County NJ. Metedeconk Lakes is the best option for best retirement communities for active adults. Search for four seasons 55 and over jackson nj and the best over 55 communities in nj. Furthermore Look for 55 and older community and 55 and over communities in ocean county nj. Also, Find a Realtor near me.
In fact, this is in a great location. To begin with, right on the borderline between ocean and monmouth counties.
If you decide that best retirement communities for active adults such as yourself, then it's time to call Bunny and Art Reiman. get your old home sold quickly and to find your new home for sale in Four Seasons at Metedeconk Lakes.
Click on the communities below to see the available homes