Here's an idea that works great as a built in bookshelf or a display area. It can also be used in the kitchen as a spice rack or ??? Use your imagination.
Inside your house you have a lot of space you are probably not using. I'm talking about the space inside the walls. Here's how the interior walls are made. On each side of the wall, you have 1/2 inch sheet rock. Holding the wall up and separating the sheet rock is a system of 2 x 4s. These 2 x 4s are actually 3 1/2 " wide, and have a spa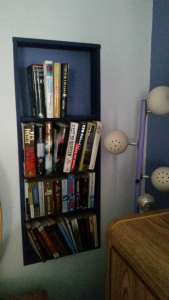 ce between them typically 14 1/2 ". If you remove the sheet rock from one side of the wall, and keep it between the 2 x 4s, you'll have a recessed space 14 1/2 " wide, 4″ deep and as high as you want to make it. It make s a great space, as shown in the picture.
To make this space, I removed the sheet rock, then slid a 4″ wide piece of wood into place at the top and bottom and toe nailed them into place. I caulked the corners, then added a few shelves. I added some molding to cover up the ragged edges of the sheet rock, then painted everything.
Voila! A built in bookshelf!
Now – here are the disclaimers.
Only do this with interior walls. Exterior walls have insulation, you don't want to compromise that. Do some investigation before you start to cut, there may be electrical wires in that section of the wall. You may also find that a particular section of the wall may be part of the heating and ventilation system of the house.
Another similar idea would be to use this idea to recess a flat screen TV into the wall. You'll need to install a horizontal support to hold the TV, which will reduce the depth by 1/2 inch or more. I haven't tried this yet be it should work fine. Here's another disclaimer – unless it's a real small TV, you'll need to cut one or more of the 2 x 4s. Make sure that the wall where you are cutting the 2 x 4s is not a structural support. If you are in doubt, have a professional verify that it's safe to remove the 2 x 4s.
If you try this project, please send me a picture. I'd love to see it.